Anger, joy over UN veto in Syrian social media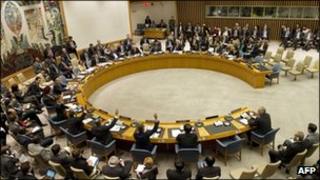 Social media users opposing the rule of Syrian President Bashar al-Assad have reacted with despair and outrage to a veto which blocked a proposed UN resolution condemning the Syrian government's violent crackdown on protesters.
Supporters of President Assad, however, expressed gratitude to Russia and China for blocking the resolution, which had been proposed by Britain, France, Germany and Portugal, in co-operation with Washington.
Some Syrian users of Twitter seemed more resigned than angry, with one saying: ''After last night's veto, we're left without hope for civilian protection.''
One pro-government blogger said: ''We thank Russia and China for supporting the Syrian people.''
Twitter
@AnonmymousSyria, writing in English on Twitter, said: ''Unfortunately, after last night's veto, we're left without hope for civilian protection. It's a tough position under a killer regime.''
@MalathAumran, writing in English on Twitter, added: ''As long as interests are above morality. Syria and Israel will never be condemned in the UNSC. It's not about China and Russia. It's about the system.''
Facebook
On the social networking site Facebook, anti-government users were angered by the veto, and blamed Russia and China for exacerbating the crisis in Syria.
"The Syrian Revolution 2011" Facebook page in Arabic carried the post "China and Russia decided to take the side of the killers", which attracted more than 800 comments by 6 October.
Some voiced anger, warning of further bloodshed. A user wrote: "Expect huge massacres from the regime."
Others wanted action against China and Russia, with one user saying: "Boycott and ask all your family to boycott whatever Chinese products they would buy."
Supporters of the Syrian president on Facebook expressed their joy.
The"Bashar Al-Asad" page on Facebook said: "The veto has been used only once for the benefit of the Arabs in history". It thanked China and Russia.
One user commented: "Thank you Russia, thank you China, God protect Syria and the leader of Syria, Al-Asad."
Blogs
Shukumaku.com, a pro-President al-Assad blog, published the news of the veto and readers responded enthusiastically. Messages of thanks were common.
Muhammad, a commentator, wrote in Arabic: "We thank Russia and China for supporting the Syrian people who want reform under the leadership of President Bashar al-Assad."
Al-Mundassah al-Suriyah, an anti-Asad blog, posted a list of previous resolutions blocked by China and Russia. Some users noted that both countries were not the only ones to exercise their veto, pointing to US, British and French vetoes of resolutions on Israel.
Most, however, were still angry with Russia and China. One post said in Arabic: "Russia and China are socialist states, and they do not know what socialism is".
BBC Monitoring selects and translates news from radio, television, press, news agencies and the internet from 150 countries in more than 70 languages. It is based in Caversham, UK, and has several bureaux abroad.