Yemen's Ali Abdullah 'to step down within days'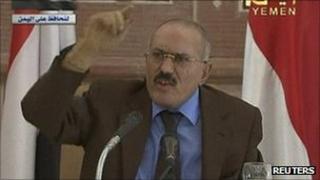 Yemeni President Ali Abdullah Saleh has said that he will step down from power within the "coming days".
Mr Saleh has appeared to be ready to resign several times, but pulled out of deals to stand down at the last moment.
He returned to Yemen unexpectedly last month from Saudi Arabia where he had been receiving treatment after his office was shelled in June.
He is faced with protests and an insurrection by renegade army units.
He has also repeatedly refused to sign a transition deal brokered by Gulf states, and first presented in March, whereby he would hand over power to his vice-president in return for immunity from prosecution.
But Yemen's deputy information minister told the BBC that Mr Saleh was no longer clinging to power.
'Reject power'
In Mr Saleh's speech, broadcast on state television, he gave no precise date for standing down.
"I reject power and I will continue to reject it, and I will be leaving power in the coming days," he said.
"It's not because I crave power, I reject power and I will leave it in the coming days and leave it behind," Mr Saleh said.
"There are sincere men, whether they be military or civilian," who are capable of governing Yemen, he added.
But the speech appears not to have referred to the Gulf-mediated transition deal.
Indeed in his first interview since returning to Yemen in late September, Mr Saleh said he would not stand down as promised if his opponents were allowed to stand in elections to succeed him.
His rivals for political power are currently Gen Ali Mohsin al-Ahmar, who declared his support for the protest movement in March, and the powerful Ahmar family.
Anti-government protesters have been camped out in an area of the capital Sanaa - dubbed Change Square - since January, demanding an end to President Saleh's rule.
Security challenges
The leading Yemeni activist, Tawakkul Karman, who was one of the recipients of the Nobel Peace Prize on Friday, said Mr Saleh's statement could not be trusted and vowed that protests would continue.
"We don't believe this man and if he wants to step down, okay, that belongs to him," she is quoted as saying on al-Jazeera television.
"He has to hand over the power; he has to give the power that he has stolen to the revolution people, the revolution rule," she added.
Yemen is facing multiple security challenges, including fighting between political factions and an al-Qaeda militancy in the south.
And there are concerns that Islamist militants linked to al-Qaeda are taking advantage of the turmoil in the country, stepping up attacks on government forces there
Around the time of Mr Saleh's return, the UN High Commissioner for Human Rights, Navi Pillay, warned that Yemen was at a "dangerous crossroads".
Correspondents say that there are acute fears that if the violence continues, the country could slip into civil war.