Protesters 'shot' for second day in Yemen capital Sanaa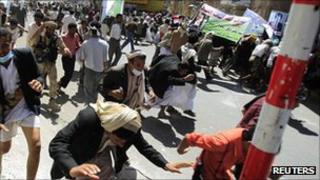 Security forces in Yemen have fired on anti-government protesters for a second day, killing four people and wounding several, doctors say.
Troops opened fire on tens of thousands of people marching in the capital Sanaa to call for President Ali Abdullah Saleh's resignation, witnesses say.
At least 12 people were killed and 80 people wounded in a similar protest on Saturday.
President Saleh has been battling eight months of street protests.
He has so far resisted calls from many Western countries to end his 33-year rule, despite saying on several occasions he was prepared to do so.
Al-Qaeda death
The protesters, camped out in Sanaa's Change Square, were trying to march towards the presidential palace when they were targeted by security forces, witnesses said.
Mohammed al-Qubati, the director of a makeshift hospital set up at the protest site in Sanaa, confirmed to the Associated Press that the death toll had risen to four and at least 37 people were injured.
On Saturday, witnesses said protesters were marching to an area controlled by the elite Republican Guard force, which is loyal to the president, when they were attacked.
Mr Saleh returned to Yemen unexpectedly last month from Saudi Arabia, where he had been receiving treatment after his office was attacked in June.
As well as street protests, he faces an insurrection by renegade army units.
Mr Saleh has repeatedly refused to sign a transition deal brokered by Gulf states, first presented in March, whereby he would hand over power to his vice-president in return for immunity from prosecution.
Separately, the media chief of militant group al-Qaeda in the Arabian Peninsula (AQAP) was reportedly killed in an air strike on Friday.
Yemen's defence ministry said on Saturday that Ibrahim al-Banna, an Egyptian national, and at least six other militants, had been killed in Shabwa province.