Middle East media lament flaws in Shalit prisoner deal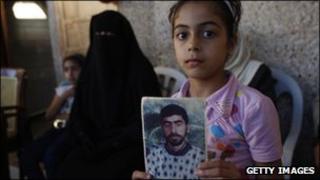 The Middle East media is divided over the terms of the Israeli-Hamas prisoner exchange deal, struck in order to free Israeli soldier Gilad Shalit after five years in captivity.
Most Israeli commentators voice their disappointment over the conditions of the agreement, with one paper labelling it "a deal of despair".
The Palestinian press has abandoned its initial unanimously upbeat position and has begun to express doubts, with some papers pointing out that the deal has not satisfied all Palestinian demands.
Elsewhere in the Middle East, commentators ask whether the release of the Israeli soldier will have any implications for the Israeli siege of Gaza.
Nahum Barnea in mass circulation Israeli newspaper Yediot Aharonot
"Gilad Shalit's homecoming is not following a brilliant operation by the elite Sayeret Matkal commando unit, a covert Mossad operation, or a threat that made his captors panic. He is coming back after decision-makers despaired at bringing him home in another way. This is a deal of despair. This is not the time to inflate the chest."
Ofer Shelah in centrist Israeli newspaper Maariv
"The list of the prisoners to be freed in the Shalit deal makes the blood boil. Had it been published earlier, the public opinion about the whole deal may have been different. Every human being understands the feelings of the family, but government decisions are not based on feelings. Yet, sentiments have been the only important thing from the first moment in the Shalit affair."
Editorial in English-language Jerusalem Post
"Jews' strong emphasis on the value of life, their belief that they share a common fate and their strong feeling of mutual responsibility led them to go to extreme measures to free hostages. And this was ruthlessly exploited by their enemies."
Samih Shubayb in pro-Fatah Palestinian newspaper Al-Ayyam
"The prisoner-exchange deal has not met any of the prisoners' demands and their battle is going on although the deal has been signed. No-one opposes the liberation of Palestinian prisoners. On the contrary, freeing them is the national demand of the first degree. Nevertheless, we should study the deal in a specific and comprehensive manner."
Wa'il al-Manbhuh in Hamas-run Gaza newspaper website Filastin Online
"It does not matter that the deal has not satisfied all our demands as sometimes parties waive some of their conditions during negotiations. Do not spend too much time on details because we are extremely happy today and do not want this happiness to be ruined. You should know that the future will be much more difficult and hence let us think about ways to secure the release of the rest of prisoners."
Mustafa al-Sawwaf in Hamas-run Gaza newspaper website Filastin Online
"In reaction to those who are trying to cast doubts on the deal and the political intentions behind it: this is just an attempt to tarnish the deal and those who negotiated it. We should have restrained from any reaction, because reply gives these people the value and status they do not deserve."
Khayrallah Khayrallah in Lebanon's pro-ex-PM al-Hariri Al-Mustaqbal
"For more than five years, Gaza has been held captive over Israeli detainee Gilad Shalit. Now, after a deal between Hamas and the government of Binyamin [Benjamin] Netanyahu has been reached, will Gaza be freed from captivity or will it remain a prisoner, whose conditions will be worse compared to when it was a prisoner because of Gilad Shalit?
Zahir Majid in Oman's pro-government Al-Watan
"Tomorrow the countdown for the release of the first batch of Palestinian prisoners will begin. A rosy dream for people who live in a large prison. More than 1,000 prisoners will be moved from a small prison to the large one. Mothers, fathers, brothers, sisters and relatives will be happy but history will be sad. All of them know that the release of their sons erases the pangs of separation but at the same time they all know that their greatest anger is over the theft of their country."
BBC Monitoringselects and translates news from radio, television, press, news agencies and the internet from 150 countries in more than 70 languages. It is based in Caversham, UK, and has several bureaux abroad.