Rafik Hariri murder: UN Lebanon court mulls next move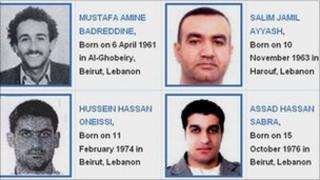 Judges at the UN-backed tribunal investigating the assassination of the former Lebanese Prime Minister Rafik Hariri are considering whether to try the suspects in absentia.
Four members of Shia Islamist group Hezbollah were named in July.
But its leaders have refused to hand them over and Lebanon has not been able to arrest them.
Hezbollah denies any role in the killing of Hariri and 21 others in Beirut in February 2005.
The pre-trial judge can request that the trial should begin in absentia if the accused have not been arrested within 30 days of wanted posters being published.
The posters were published in major Lebanese newspapers on 15 September.
Indictments dismissed
Rafik Hariri died when a suicide bomber drove a van packed with 2,500kg (5,510lb) of explosives into his convoy on the Beirut waterfront.
His assassination plunged Lebanon into a series of political crises, killings and bombings that led to sectarian clashes in 2008, dragging the country to the brink of civil war.
The Special Tribunal for Lebanon's 47-page indictment issued in August alleges that Mustafa Badreddine, a high-ranking figure in Hezbollah, was the overall director of the operation.
Salim Ayyash, another senior Hezbollah official, is alleged to have co-ordinated the attack on the ground.
The other two suspects, Assad Sabra and Hassan Oneissi, are accused of complicity and of trying to sow a false trail by producing a video tape with a fake claim of responsibility.
The tribunal, based in The Hague, was created by a 2007 UN Security Council resolution, at Lebanon's request.
In August, the court said Lebanon must try harder to arrest the men, but the country's present Hezbollah-backed government is widely seen as resistant to the tribunal's work.
A Western-backed government led by Mr Hariri's son Saad collapsed in January largely over its support for the tribunal.
Hezbollah leader Hassan Nasrallah has dismissed the indictments as a failed attempt to sow strife and says the tribunal is a tool of US and Israeli policy.