Hamas plays trump card to free prisoners from Israel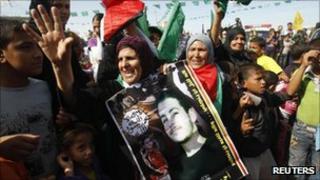 There were scenes of joy and celebration at the hot and frenetic Rafah crossing today, as Palestinian prisoners scrambled off buses into the arms of their tearful relatives.
As the chaotic scenes unfolded, an elderly gentleman dressed all in black and who did not want to give me his name pulled me aside.
"Just remember one thing," he said. "Palestinians have mothers too. Our mothers feel the same as Gilad Shalit's mother today. Their sadness is over."
"I can't describe my feelings at the moment," smiled Abdul Haleem Salama after he embraced his brother Akram, who was tasting freedom after 16 years in an Israeli jail.
Akram, a member of Hamas's military wing, the al-Qassam Brigade, had been serving a 30-year sentence for killing two Israelis. When he was jailed he had been married for just six months.
For Israelis, many of the 477 Palestinian prisoners who have been released are regarded as murderers and terrorists.
For Palestinians, they are freedom fighters who deserve a hero's welcome.
A new Shalit?
Hamas will make political capital from this deal - a total of more than 1,000 Palestinian prisoners for just one Israeli, Sgt Gilad Shalit, will be portrayed as a triumph.
At Rafah, gun-toting masked Hamas militants, clad in black and green, paraded on the back of pick-up trucks, wielding rocket-propelled grenades.
Hamas wanted a show of force.
"This is the day when we step over the head of Zionism," declared Akram Abdullah Kassem, shortly after crossing into Gaza from Egypt.
He told me he was involved in the killing of six Israelis as a Hamas militant. He had been served 11 years of a 30-year sentence.
In reality, Hamas compromised to make this deal. They backed down over the release of the most high-profile prisoners.
Faced with dwindling popularity, uncertain about their base in Syria and recently overshadowed by their rival from the Fatah party, Palestinian Authority President Mahmoud Abbas, Hamas figured this would give them a boost.
It will. But many believe Hamas has also played its trump card. What will their strategy be now?
At one point Hamas supporters here in Rafah chanted: "We want a new Gilad Shalit."
That would be ominous for Israeli-Hamas relations which, despite this prisoner deal, remain nothing less than hostile.