UN urges Yemen President Ali Abdullah Saleh to quit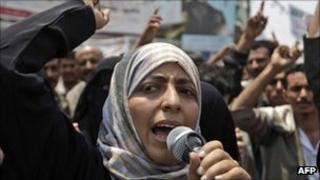 The UN Security Council has called on Yemeni President Ali Abdullah Saleh to step down immediately after months of anti-government protests.
It condemned excessive force against protesters, hundreds of whom have died since unrest began in January.
The council said those responsible for violence should be held accountable.
But the resolution was criticised by Yemeni activists and human rights groups, because it opened the way to granting immunity to the president.
The BBC's UN correspondent Barbara Plett says there were no council divisions like the kind that blocked action on Syria, partly because of serious concerns about the deteriorating security situation in Yemen.
The resolution urges the president to implement a political solution based on a plan put forward by the Gulf Co-operation Council (GCC), which urges him to transfer power to his deputy.
War crimes call
Ambassadors said the unanimous vote sent a strong political message to Yemen, especially after damaging divisions over a response to the violence in Syria.
But the resolution was criticised by human rights activists because the GCC plan also promises Mr Saleh immunity.
The Nobel Peace Prize winner from Yemen, Tawakul Karman, is visiting New York to demand UN action to end the bloodshed there.
She told reporters that activists wanted the president handed over to the International Criminal Court to be tried for alleged war crimes for the deaths of protesters.
Earlier, she led a small demonstration outside UN headquarters calling for him to be put on trial.
Ms Karman is a leading pro-democracy figure in Yemen.
She was one of three joint recipients of the Nobel Peace Prize earlier this month.
"We reject and refuse any immunity for the criminals," she said. "Immunity is against what the UN was founded upon."
Western envoys acknowledged that immunity for Mr Saleh in the GCC initiative was an issue, but said that the plan was the only game in town, and a political solution was urgent.
What began as peaceful protests against President Saleh have increasingly degenerated into armed conflict involving different tribes and militias, and five or six provinces are no longer under government control.
The resolution expresses concern about the presence of al-Qaeda in Yemen, reflecting fears that it is taking advantage of the political vacuum to expand its influence in the country.