Palestinian PM Fayyad says the time 'not ripe' for talks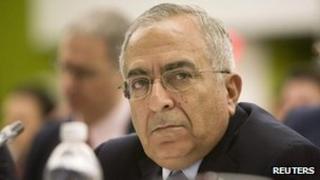 Palestinian Authority Prime Minister Salam Fayyad has said that the time is not ripe for resuming "meaningful" talks with Israel.
He said the problem was not a lack of talks but the absence of the right "terms of reference" for a peace deal.
The Quartet of Middle East negotiators - the UN, EU, US and Russia - had called for direct talks to take place later this month.
They will hold separate talks with the two sides next week.
"Our own assessment is that the conditions are not ripe at this juncture for a meaningful resumption of talks," Mr Fayyad told a dinner hosted by the American Task Force on Palestine, a pro-Palestinian lobby group.
Mr Fayyad's comments came a day after a prisoner swap in which Hamas - which governs the Gaza Strip - freed Israeli soldier Gilad Shalit after five years of captivity in return for the freedom of more than 1,000 Palestinian prisoners.
They also came nearly a month after the Palestinian Authority launched a bid for full UN membership, a move opposed by Israel and the US.
Israeli Prime Minister Benjamin Netanyahu has blamed the Palestinian leadership for the fact that no direct talks are currently planned.
But Mr Fayyad said it was not "for lack of talks" that efforts to reach a peace settlement had failed.
"It's precisely because those talks were attempted so many times before, but not on the basis of terms of reference that were consistent with what is required to bring this conflict to an end in a manner that is remotely related to what international law requires," he said.
The Palestinian leadership has said it will not return to talks without a complete freeze on Jewish settlement expansion in the West Bank and East Jerusalem.