Syria unrest: 'At least 24' die in protests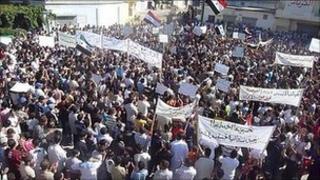 At least 24 people were killed across Syria after protesters returned to the streets following Friday prayers, activists said.
Most of the deaths were in the central city of Homs, according to the Local Co-ordination Committees.
The death of Libya's Col Gaddafi was said to help galvanise activists, who regularly protest after Friday prayers.
Protesters are demanding an end to the rule of Syrian President Bashar al-Assad and a transition to democracy.
More than 3,000 people - mostly unarmed demonstrators - have been killed since the revolt began in March, the UN says.
Syrian authorities say they are fighting armed terrorist groups, and that at least 1,100 members of the security forces have been killed.
'Your turn'
The Local Co-ordination Committees said 19 of the deaths took place in Syria's third city, Homs.
"Very dense fire by various types of machine guns in Baba Amr neighbourhood, random shelling on homes from armoured vehicles guns and anti-aircraft guns," the group reported.
Reuters news agency quoted local activists as saying three members of one family were shot dead at an army roadblock in Bab Sbaa district on their way to prayers in Homs. A city of one million, it has been a focal point for unrest since demonstrations began.
Three were killed in Hama and its suburbs, one in the Damascus suburb of Saqba, and one in northern Idlib province, the group said.
There has been no independent confirmation of the latest deaths.
Foreign journalists are severely restricted in Syria and information is tightly controlled by the government.
"Gaddafi is finished. It's your turn now Bashar!" shouted demonstrators in the town of Maaret al-Numaan in Idlib, one witness told Reuters news agency.
Like the former Libyan opposition, Syrian opposition groups have formed a national council - and some have even called for foreign intervention, though this has for the most part been resisted by the movement's leaders.
In the town of Qusair near the Lebanese border, Syrian forces closed all mosques to prevent people from gathering, AP reports.
Syria has faced mounting international condemnation for its violent response to protesters, including being the subject of US and EU sanctions.
On Sunday, the Arab League called for talks between the Syrian government and opposition forces to take place within 15 days.
Arab foreign ministers at an emergency meeting in Egypt decided not to suspend Syria from the organisation.
Damascus has expressed reservations about the plan although correspondents say it is beginning to feel the pressure as criticism increases.
Saudi Arabia and other Gulf states have already withdrawn their ambassadors from Syria in protest.