Twelve killed in heavy fighting in Yemeni capital Sanaa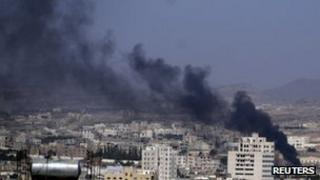 At least 12 people have been killed in clashes between government troops and a renegade army unit in the Yemeni capital Sanaa.
Dozens of people were also injured in Saturday's violence.
The fighting broke out between renegade soldiers and government forces in the Hasaba district.
On Friday, the UN Security Council urged President Ali Abdullah Saleh to step down immediately in return for immunity from prosecution.
The Hasaba district has been the scene of a tense standoff for months between forces loyal to President Saleh and troops who have sided with protesters demanding that the president, who has ruled for 33 years, should step down.
The renegade soldiers are led by Ali Mohsen al-Ahmar, a general who broke ranks with Mr Saleh after protesters began almost daily demonstrations in February.
Rocket-propelled grenades, mortars and automatic weapons were used in the Hasaba, Soufan and Nahda districts in the north of the city.
Gunmen loyal to tribal leader Sadeq al-Ahmar were also involved in the fighting on the side of the renegade unit.
Witnesses said they heard explosions across the city, and saw fire and plumes of smoke rising from several neighbourhoods where opposition forces are stationed.
President Saleh has managed to cling to power despite the mass demonstrations and growing international pressure to resign.
On Friday, the UN Security Council unanimously adopted a resolution urging him to immediately accept a power transfer deal mediated by the Gulf Arab states and end the violence.
A Yemeni spokesman said the government was ready to "deal positively" with the resolution.