Press hails "new era" in Tunisia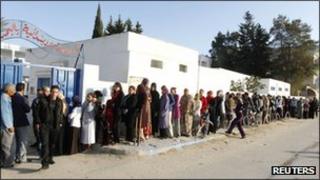 Newspapers across the Middle East congratulate the Tunisians on holding the first free general election in the Arab Spring.
Some dailies, including in Tunisia itself, argue that the outcome of the election is not as important as the fact that it is being held at all.
Many hail the start of a new era and predict that Tunisia may become a model for other Arab countries, but others warn that the long-term future is uncertain.
'Role model'
"Congratulations to the people of Tunisia," says an editorial in the London-based Arab nationalist daily Al-Quds Al-Arabi. "They deserve this because they offered their precious blood to reach this stage."
Iran's reformist E'temad says the election shows that the Tunisian revolution, which has been "advancing without failure", "is capable of becoming a role model for the people of other Arab countries who have taken to the path of change".
Another Iranian reformist daily, Sharq, hails "a new era in the history of countries which have succeeded in overthrowing despotic regimes", while conservative Iranian daily Resalat judges that "the scale of people's participation in this election is of great importance for Tunisia and other Arab countries".
Qatar's Al-Rayah says the Tunisian people took "a major step towards their future yesterday". According to the paper, the question of which party wins the election is less important than its fairness and transparency. "There will be no loser in these decisive elections as the real winner is Tunisia and the Tunisian people, who have managed to oust one of the most dictatorial and corrupt leaders in the region," it says in an editorial.
'Happy, confident and proud'
The sentiment that there will be no losers is echoed in a commentary by Khaled Guezmir on the website of Tunisia's Le Temps, dated 23 October. "Whatever our fears, our joys or our disappointments may be in the light of tomorrow's results, we have to be rather happy, confident and proud to have put Tunisia on the road of a pluralist democracy and the rule of law," Guezmir says.
This sense of optimism is also reflected in some Tunisian headlines on 23 October. "Historical day", reads one published by Tunisian independent daily Assabah, while Essahafa hails a new "chapter in the history of Tunisia" in a headline on its website.
Uncertain future
Striking a more cautious note, an editorial in Algeria's El-Khabar describes the elections in Tunisia as "a real test" of the ability of Arab people "to get out of the crucible of minority rule, wars of factions, interests and inheritance and to move towards positive change".
A commentary in Israel's Yisrael Hayom acknowledges that yesterday's "celebration of democracy" in Tunisia was "heart-warming", but the paper goes on to remind its readers that the whole world spoke about democracy being on the horizon when neighbouring Algeria saw "historic" parliamentary elections in 1997. "Does anyone remember?" the paper asks rhetorically.
BBC Monitoring selects and translates news from radio, television, press, news agencies and the internet from 150 countries in more than 70 languages. It is based in Caversham, UK, and has several bureaux abroad.