Yemen airport shut after explosions at military base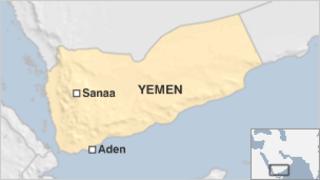 Yemen has shut its international airport in the capital Sanaa after explosions were reported at an adjacent air force base.
A number of blasts were heard at the al-Daylami base, prompting flights to be rerouted from Sanaa International Airport to Aden.
Sanaa has been wracked by fighting between forces loyal to President Ali Abdullah Saleh and his opponents.
Tens of thousands protest regularly for an end to his 33-year rule.
Transfer of power
Residents and witnesses said at least one shell had hit the air base.
One aviation official told Agence France-Presse news agency: "There were four explosions at the air force base alongside the international airport and two fighter jets went up in flames."
No-one has yet said they carried out any attack and no casualties have been reported.
Flights have been diverted to Aden in the south of the country.
Clashes continue between pro- and anti-Saleh factions.
Reuters news agency quoted tribal sources as saying four people were killed by army shelling in the Arhab area, north of the capital, overnight.
The UN Security Council has called on President Saleh to step down immediately and has condemned excessive force against protesters, hundreds of whom have died since the unrest began in January.
Mr Saleh has so far failed to implement a political solution based on a plan put forward by the Gulf Co-operation Council (GCC), which urges him to transfer power to his deputy.