Israeli troops 'kill two in Gaza'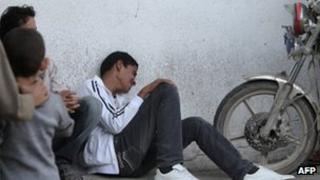 Israeli security forces have killed two people in a clash on the border of the Gaza Strip, local medics say.
Palestinian sources said Israeli troops had crossed over into northern Gaza.
The Israeli military said it had carried out a strike after a routine patrol came under attack. It said "hits" were confirmed, but said it had no information on casualties.
The incident came after a brief lull in the worst violence to affect the area for months.
Palestinian emergency services spokesman Adham Abu Selmiya told AFP news agency those killed were farmers who were working the land when they were targeted.
One person was injured, he said.
The Israeli military said its troops had been attacked on its side of the border.