Mid-East papers: Syria's growing isolation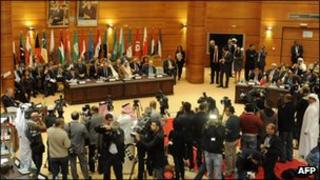 Middle East newspapers remain confident that the end of President Bashar Assad's rule in Syria is nearing, after the Arab League gave the country three days to start implementing a peace plan and allow in international observers or face economic sanctions.
One Iranian paper insists that the Arab League's decisions are being influenced by Western powers and a Jordanian commentary warns of impending civil war in Syria and a "media offensive mounted by the West". However, an Israeli writer thinks the collapse of the Syrian government has "never been such a real possibility" and a Saudi editorial views President Assad as increasingly isolated.
In Turkey, a commentator agrees that losing the support of Arab countries as well as Ankara signals the "beginning of the end" for Assad. Another questions how Turkey's refusal to support Syria will impact upon its relationship with Iran.
Gholam Reza Qalandariyan in Iranian hard-line Qods
The decision of the Arab League [to suspend Syria's membership] showed that they are the agents and implementers of US policies in the Islamic world ... The mediation of those who are prescribing solutions for Syria is not impartial. These countries do not have democratic systems. Barring a few, all of them have monarchical and autocratic systems.
Muhammad Ka'ush in Jordan's Al-Arab al-Yawm
There are some sides that seek to engage Syria in a civil war in preparation for foreign intervention. There is no doubt that Turkey, which participated in the Rabat meeting [of the Arab League], is pushing towards escalation against Syria… Bold and reasonable decisions are required from the Syrian regime to stop chaos and violence and to repel the media offensive mounted by the West.
Editorial in Saudi privately-owned, pro-government Al-Watan
Syria's boycott of the Arab League meeting held in Rabat to suspend Syria's membership means the Syrian regime is risking isolation … It is obvious that the Syrian regime is not counting on anything except the vision of the [Baath] Party which is based on armed confrontation and the continuous use of violence.
Boaz Bismuth in Israel's Yisrael Hayom
The regime in Damascus suffered blows from every possible direction yesterday… deserters from the army carried out an organised attack on the intelligence base of the air force… in Morocco, the Arab League and Turkey called for stiffer sanctions against Assad. Assad has never been so isolated. Syria has never been so close to civil war. The collapse of the regime has never been such a real possibility.
Editorial in pan-Arab independent Al-Quds Al-Arabi
Attacking embassies will not deter concerned states and governments or let them backtrack on their anti-Syrian positions. This may rather encourage them to be more intransigent and escalate hostility towards the Syrian regime.
Abd-al-Rahman al-Rashid in pan-Arab, Saudi-owned Al-Sharq al-Awsat
[Assad] can make the end his own, and not that of his opponents and regional and international forces... The noose is tightening and will continue to do so until the Syrian government collapses, just as Gaddafi's regime did.
Ahmet Altan in Turkish leftist Taraf
From now on, a civil war will be entered into step by step. We do not know how long it will last or what phases it will go through, but we can say that we will witness the beginning of the collapse of Assad.
Sedat Laciner in Turkish centre-right Star
[Previously] Assad was saved from sharing the fate of Saddam Hussein by how Turkey and the Arab-Islamic world reacted …When you look at things in this light, losing the support of the Arab world and Turkey is the beginning of the end for Assad.
Gungor Mengi in Turkish centrist Vatan
Can Turkey play a leadership role in this new region where the ideology is not democracy but Islam? Deterioration of relations with Syria also means the deterioration of relations with Iran. Can this be risked?
BBC Monitoring selects and translates news from radio, television, press, news agencies and the internet from 150 countries in more than 70 languages. It is based in Caversham, UK, and has several bureaux abroad.