Syria businesses loyal despite downturn amid unrest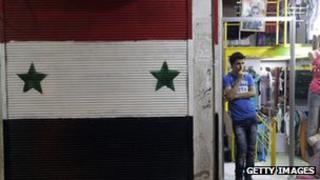 There is no doubt that pressure is building on Syrian President Bashar al-Assad from many sides.
One of the key areas is the Syrian economy, which has suffered greatly in the past eight months of violence and unrest.
Two sections of Syrian society have so far displayed the least sign of switching sides and backing the opposition - they are the professional core of the army and the business and trading community.
Both are dominated by the Sunni elite and the Alawite minority, to which the Assad family belongs. Both are tightly bound to the regime - by what they have gained and what they might lose if it falls?
And both are facing increasing challenges, leading some observers to wonder if it is a race against time whether pressure from increasing armed opposition or the failing economy will be decisive.
The economy was one of President Assad's modest successes before the unrest erupted, leading many to think an uprising unlikely.
But the past eight months have seen a brutal contraction. Tourism, which was bringing in some 12% of revenues, has virtually ceased. Oil exports, with European sanctions now coming into force, have also been badly hit.
International trade has become more and more difficult. Deals with foreign companies have been suspended. Prices have shot up, markets have shrivelled, unemployment has risen, salaries are going unpaid.
The appearance of normality the government is trying to preserve for its supporters is fraying.
But is this enough for businessmen - the middle class - to switch loyalties? So far, no.
Apart from fear of what they might lose, there is the pervasive fear of the punishment the security forces can still mete out.
But many are quietly and nervously weighing up their options as the pressure builds on President Assad.