Syria unrest: Arab League sets observer ultimatum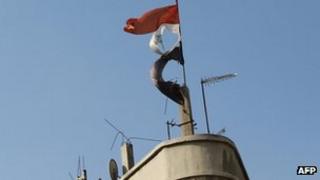 Syria is a few hours away from a deadline to allow an Arab League observer mission into the country or be subjected to sanctions.
The Arab League wants 500 observers to enter the country.
If Syria fails to sign an agreement in Cairo by 11:00 GMT, the Arab League says it will meet on Saturday to decide what sanctions to impose.
More than 3,500 people have died since anti-government protests began in March, the United Nations estimates.
The government of President Bashar al-Assad blames the violence on armed gangs and militants.
At least 40 people, including six children, have been killed across Syria in the past three days, activists say.
These reports are difficult to verify as foreign journalists are unable to move around Syria freely.
'Unified position'
The options for sanctions include a suspension of commercial flights to Syria and a halt to all dealings with its central bank.
Earlier this month, the Arab League voted to suspend Syria and warned of unspecified sanctions for not implementing a peace plan.
One of the main sticking points was Damascus' demand to amend the proposal for the 500 observers to be allowed in to Syria.
Damascus reportedly wanted to reduce the number to 40 - a request rejected by the 22-member League.
In addition, a deadline for Syria to end its crackdown passed last Saturday night with no sign of the violence abating.
"Syria has not offered anything to move the situation forward," a senior league diplomat was quoted as saying by Reuters news agency on Thursday.
"The position of the Arab states is almost unified," he said, adding that all agreed there should be no civil war or foreign intervention.
The diplomats also appealed to the United Nations to prevent further violence, asking UN Secretary General Ban Ki-moon "to take all measures to support the efforts of the Arab League to resolve the critical situation in Syria".
The venue of Thursday's meeting in Cairo had to be moved away from the Arab League headquarters because of the continuing protests against Egypt's ruling military council in Tahrir Square.
'Humanitarian zones'
Meanwhile, the head of opposition Free Syrian Army (FSA) group told the BBC that President Assad was now "finished".
Speaking from a refugee camp in Turkey, Riyad al-Asad said: "Even if the outside world doesn't help us or stand with us, the Syrian nation is determined to bring down this dictator."
"The system is rotten to the core. It looks strong, perhaps, on the outside but it is weak at the heart," the former colonel in the air force added.
The FSA was formed in August 2011 by army deserters.
Meanwhile, France has suggested that some sort of humanitarian protection zones be created inside Syria, the BBC's Jon Leyne in Cairo reports.
It is the first hint that international military intervention is under consideration, our correspondent adds.