Bahrain unrest continues after king's reform promises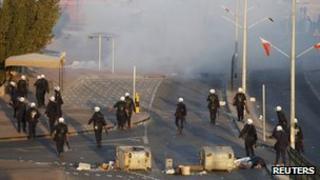 Reports from Bahrain suggest continuing violence this week, despite a promise from King Hamad to prevent further abuses from security forces.
An activist said police had fired tear gas and rubber bullets on Thursday at a funeral for a man allegedly targeted by authorities a day earlier.
Police said the man was the victim of a road accident and that an "illegal rally" was held after his funeral.
A report has said security forces used "excessive force" earlier this year.
The independent report covered unrest in February and March, and prompted King Hamad to promise reforms to prevent future abuses by security forces.
It detailed excessive use of force and abuse of unarmed protesters. Bahrain's mainly Shia protesters have been calling for democratic reforms and more rights for the country's Shia majority in the Sunni-ruled kingdom.
Bahraini security forces, aided by the Saudi military, cracked down this year on mainly Shia demonstrators demanding a greater say in government and an end to what Shia said was systematic discrimination against them.
'Not a protest'
The activist, who said he was in hiding and requested anonymity to avoid reprisals, said he was one of several thousand to attend the funeral for Abdul Nabi Khadhem on Thursday in the Shia town of A'Ali.
"We were lowering his body into the ground and the security forces opened fired with tear gas, rubber bullets and stun grenades," he said.
But in a statement to the BBC, the interior ministry said: "Around 500 persons participated in an illegal rally after a funeral procession in A'Ali. Roads were blocked and Molotov cocktails and stones were hurled by the demonstrators which led to police forces interfering."
Mr Khadhem died in a car crash on Wednesday. Police say he was simply the victim of a road accident when his car hit another on the outskirts of the capital Manama.
The interior ministry statement described him "driving at a high speed on a branch road, where he lost control of the vehicle due to a curve on the road".
But the activist told the BBC that the 43-year-old died when his car was deliberately struck by a security vehicle and swerved into the path of an oncoming car.
He said that people had shouted at the police that it was they who were responsible for Mr Khadhem's death. But he denied claims that the crowd was violent.
"There were no banners, we were not in a protest march, we were in the cemetery, burying him, and they opened fire."
The reports of continuing unrest bodes ill for the government's attempt to draw a line on the violence and upheaval that has wracked this island kingdom for months.
Bahrain's international image has been seriously damaged and its economy slowed to a near standstill as confrontations between police and predominantly Shia protesters continue.