Cheerful mood as Egypt queues for first democratic vote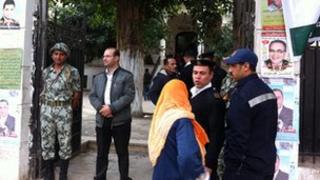 It has already been a long wait for democracy in Egypt, joke the women queuing at a polling station in central Cairo, and so they do not mind holding on a bit longer.
Early in the day, the line stretched out of the school gates along Qasr al-Aini Street, but it has remained orderly and the mood is cheerful.
The voters chat to the police officers standing on guard alongside soldiers in their combat uniforms.
"We had to have this election. We have to have a new parliament and a new constitution. This is the only way to do it," said housewife Iman Afra.
While her daughter took four hours to cast her ballot in a neighbouring district, for her it was a much quicker process.
"It was smooth. I'm very impressed," said Mrs Afra.
"I just entered my ID number on the internet and I even found out the room to go to," she said. "I did my homework and I knew how I was going to vote. They explained on the net and on TV."
'Better future'
When elderly voters arrive, usually to cast their ballots for the first time, they are helped up the stairs and guided through the voting process by relatives and well-wishers. A mother, Naama, nursing her two-month old baby has come with her blind mother.
"I'm determined to be here for the sake of my country," she said. "I want the country to be stable and better developed. I want a better future for my son with freedom and justice."
"The new parliament will have to solve a lot of problems starting with the youth unemployment," Naama added.
Living close to the parliament building and Tahrir Square, voters in this area have had a close-up view of the revolution and recent violent protests against military rule.
But many believe it was right to press ahead with elections.
"I was torn. I think people are right to stay in Tahrir Square in some ways but I want to vote, I want to move on," said Nihal Waly, 22, showing off her ink-stained finger that indicates she has cast her ballot.
"We have to be clear in our choices," she said.
Rival campaign
Along Qasr al-Aini Street, there is an encampment outside the cabinet office where the new civilian Prime Minister, Kamal al-Ganzuri, is starting work.
Tahrir Square has large signs on display that rival the colourful political campaign posters seen elsewhere.
"People demand the removal of the military council," said one in the centre of the roundabout.
There are loud chants about the brutal clashes with police that claimed more than 40 lives last week.
A young man leads the crowd yelling out: "I'm listening to the call of a martyr's mother. The interior ministry killed my kids. Come silent ones. Why are you silent? Did your brother die or not?"
As he sits covered by woollen blankets in his tent, Mahmoud al-Hadidi, 73, is dismissive about the voting taking place nearby. "This is simply rubbish," he said.
"Democracy will come from Tahrir, not from the killers. The military have robbed the whole country," Mr Hadidi said.
"If anyone is going to vote in the election, he must ask himself - are the military going out of political life? The answer is no," he added. "I'm here because I want a new democracy for my country."
He argued that this could only come when it was clear how the new parliament would function and the stand-off was resolved with the armed forces about how much power they would retain under a new constitution due to be written next year.
After torrential rain overnight there are large muddy puddles in the square but activists insist they will continue to camp out.
Egyptians are also expected to turn out in large numbers for a second day of voting on Tuesday.