Israel to release Palestinian tax money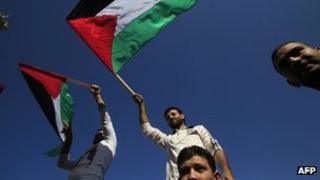 Israel says it will release tens of millions of dollars of tax money that it has withheld from the Palestinian Authority over the past month.
It said the move was conditional on the Palestinians not taking "unilateral steps".
Israel froze transfers on 1 November, a day after Palestinians won membership at the UN cultural agency, Unesco.
That bid was part of a wider Palestinian campaign to get recognition at the UN.
The US has backed Israel in its opposition to the Palestinian campaign, and has said it will use its veto to block a membership request submitted to UN Security Council.
Israel transfers about $100m (£64m) in tax and tariff monies collected on behalf of the Palestinians each month to the Palestinian Authority (PA).
The office of Israeli Prime Minister Benjamin Netanyahu said it would release the frozen funds "in the wake of the cessation of unilateral steps by the Palestinian Authority".
Defence Minister Ehud Barak said: "Our stance is that monies should be transferred, they belong to the Palestinians, are collected by us. I am happy the issue is being rethought."
Israeli public radio reported that Foreign Minister Avigdor Lieberman was the only member of the inner cabinet to vote against releasing the money.
Mr Lieberman has said he is against the release partly due to the PA's efforts to reconcile Palestinian leader Mahmoud Abbas's Fatah group and its rival Hamas, which runs the Gaza Strip.
Mr Abbas said on Monday that the two sides would form a joint government after elections in May 2012.
Palestinian Prime Minister Salam Fayyad had warned that if the money was not released, about 150,000 workers might not get their salaries.
This week Mr Netanyahu also postponed renovation of a wooden footbridge near Jerusalem's most sensitive holy site, a move he said was intended to prevent inflaming anger in the Arab world.