Expelled Iran diplomats arrive home in Tehran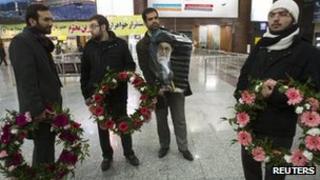 A group of Iranian diplomats who were expelled from Britain have arrived back in Tehran.
A group of supporters chanting slogans such as "Death to Britain" were at the airport to greet them but the diplomats were hustled away by back corridors.
The 25 diplomats were expelled after hundreds of protesters attacked the UK embassy in Tehran on Tuesday.
British officials have said it is likely the attack had the tacit support of Iran's leaders.
France is withdrawing some of its staff from its embassy in Tehran as a precautionary measure, the French Foreign Ministry has announced.
In what was described as a temporary measure, it's pulling out an unspecified number of diplomats and their families for security reasons.
Those being flown back to France in the next two or three days will be mainly administrative staff and teachers from the French school in Tehran, says the BBC's Hugh Schofield in Paris.
Financial sanctions
The attack on the UK embassy came after Britain levied new sanctions on Iran, banning financial transactions with Iran's financial sector, including its central bank.
The US and Canada adopted similar measures at the same time.
The EU has also tightened its Iran sanctions following a report by the UN's nuclear watchdog that said Iran had carried out tests "relevant to the development of a nuclear device".
Iran denies the accusations, saying its nuclear programme is solely for peaceful purposes.
The Iranian diplomats flew out of Heathrow on Friday on a chartered Iran Air flight.
Their expulsion was ordered by Foreign Secretary William Hague after the British embassy in Tehran was stormed on Tuesday.
Iran said it regretted the incident, which it described as "unacceptable behaviour by a small number of protesters".
The expression of regret and the obstruction of the welcoming party reflect divisions within Iran's leadership, analysts say.
But Dominick Chilcott, the UK's newly appointed ambassador to Iran, told the BBC Iran was a country in which an attack on an embassy was conducted only "with the acquiescence and the support of the state".
Mr Hague said there had been "some degree of regime consent" in the attacks on the embassy and on another UK diplomatic compound in Tehran.
He also said all UK diplomatic staff in Tehran had been evacuated and the embassy closed.
The foreign secretary said relations between the UK and Iran were now at their lowest level, but the UK was not severing relations with Tehran entirely.
Germany, France and the Netherlands announced on Wednesday that they were recalling their ambassadors to Tehran for consultation, and Norway said it was temporarily closing its embassy there as a precaution.
The US, EU and UN Security Council also condemned the attacks.
Iran described those who attacked the British embassy as students, but Mr Hague said the majority of those who took part were members of a regime-backed Basij militia group.