Egypt Islamists widen poll lead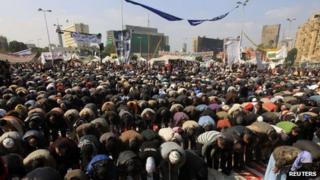 Latest results from the Egyptian elections indicate that Islamist parties are likely to have a strong majority in the new parliament.
The political wing of the Muslim Brotherhood and a more conservative Salafist Islamist party are leading, while secular liberals are behind.
However, most candidates will have to go through to two further rounds of voting over the next six weeks.
The Muslim Brotherhood called for the will of the people to be respected.
Salafists second
The BBC's Jon Leyne, in Cairo, says this is arguably the first fully free and fair election in Egyptian history.
Turnout was 62% in the vote, the first election since ex-President Hosni Mubarak was toppled in February.
Preliminary results show the Freedom and Justice Party (FJP), the political wing of the Muslim Brotherhood, is in the lead.
The Brotherhood - which led the opposition to Mr Mubarak during his 30 years in power - was until this year officially banned. In practice, it was tolerated as long as it remained at the margins of politics.
Its rivals accused the FJP of handing out food and medicine as a way of winning votes.
"We call upon everyone, and all those who associate themselves with democracy, to respect the will of the people and accept their choice," the Brotherhood said in a statement.
The early results put the ultra-conservative Salafist al-Nour Party in second place, followed closely by the coalition of liberal parties known as the Egyptian bloc.
Salafists call for a return to the way Islam was practised during the time of the Prophet Muhammad and his companions, in the 7th Century.
The voting on 28 and 29 November covered nine out of 27 provinces, which will elect about 30% of the 498-seat lower house of parliament.
Two further rounds are scheduled over the next six weeks.
The upper house will then be elected in another three stages.