Bahrain blows up parcel of suspected explosives from UK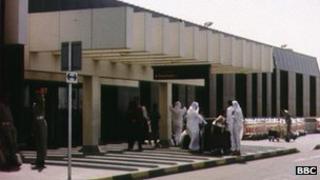 Bahrain says staff at its airport have detonated a suspect package sent from Britain via Dubai, the week after a blast near the British embassy.
The parcel was originally thought to contain explosives but on examination, the ministry of interior said it contained only bomb-making materials.
Officials in Bahrain have told the BBC they believe the device was a dummy to "test their defences".
The UK Foreign Office says it is aware of the reports and is checking them.
Meanwhile, riot police in the capital Manama fired tear gas and rubber bullets at hundreds of protesters trying to reach a key landmark.
The Shia-majority protesters - who are demanding more rights from Bahrain's Sunni rulers - were trying to reach Pearl Square, the centre of demonstrations which erupted earlier this year.
They began marching after ceremonies commemorating the death of the Prophet Muhammad's grandson Hussein, in 680AD, a key event in the Shia faith.
There were no immediate reports of injuries.
Blast near embassy
BBC security correspondent Frank Gardner says UK counter-terrorism police are working with the Bahraini authorities to investigate the device.
After detonating the package, Bahrain's ministry of interior said on its Twitter account: "Correction: after examining package at lab it turns the materials used aren't explosives, but contained tools used to make explosives".
On Sunday, Bahrain said an explosion outside the British embassy in the capital Manama was caused by a bomb placed under a vehicle nearby. It blew the wheel off a van and damaged other vehicles nearby.
British diplomats were not thought to be the target, our correspondent says.
Last week, the Daily Telegraph newspaper reported that a senior police officer who resigned from the Metropolitan Police earlier this year was going to Bahrain to help reform the police there.