Reports of new killings in Syrian city of Homs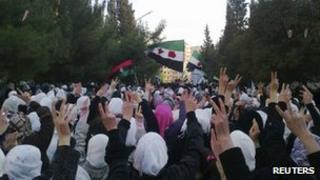 Twelve people have died in Syria in the latest violence in the uprising against the government of President Bashar al-Assad, opposition sources say.
Many of the casualties were reported to be in the city of Homs, one of the main centres of anti-government protests.
The opposition Syrian National Council (SNC) has expressed fears of an imminent military offensive on Homs.
The UN estimates more than 4,000 people have died in the nine-month uprising, including 307 children.
The Local Co-ordination Committees, a network of opposition activists, has called for a campaign of civil disobedience to begin on Sunday, leading up to a general strike.
International pressure
France has expressed its concern at the possibility of an operation in Homs, calling on the international community to "mobilise to save the Syrian people."
"France warns the Syrian government and will hold the Syrian authorities responsible for any action against the population", French foreign ministry spokesman Bernard Valero said in a statement.
UN Secretary General Ban Ki-moon has added to international pressure on President Assad, saying that as "leader of Syria [he] is responsible for all that has happened."
"[Mr Assad] has a very important responsibility to protect the lives of his own people, therefore I would urge him again to stop immediately killing his people," Mr Ban said in an interview with the Al-Jazeera TV station.
The Arab League is to hold two emergency meetings on Syria in the coming week, an unnamed spokesman for the League told Egyptian state news agency Mena.
The League will discuss Syria's response to a plan to send monitors from the League to Syria. Last month the League suspended Syria's membership in protest at the continuing crackdown and also imposed economic sanctions.