Yemen 'to release detained protesters'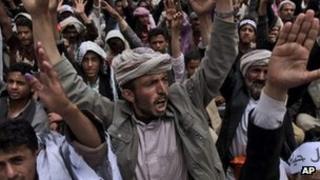 Hundreds of protesters detained in Yemen over 10 months of unrest will be released, the interior ministry says.
The move comes after President Ali Abdullah Saleh - the target of most of the protests - agreed to step down.
The exact number of protesters being held by the authorities is unknown, but activists told the Reuters news agency that it could be as high as 1,400.
In a separate development, the state news agency reported that six al-Qaeda militants had been arrested.
Saba quoted an unnamed security source as saying the leader of the group in the eastern province of al-Jawf, Musaid Mohammed Ahmed Naji al-Barbari, was among those arrested.
The militants were "plotting terrorist attacks" against "high-level state figures, government interests and facilities, in addition to Arab and foreign diplomatic missions", the report said.
On Monday, at least 10 suspected al-Qaeda militants escaped from a prison in the southern port city of Aden. Officials said the prisoners fled through a tunnel they had dug.
Taiz unrest continues
The decision to release all those detained in connection with the protests came three days after a new national unity government, headed by the senior opposition figure Mohammed Basindwa, took office.
It will serve until presidential elections are held in February.
The formation of the new cabinet, with posts divided between the opposition and Mr Saleh's supporters, is part of the power transfer deal that saw the veteran leader hand over power to the Vice-President, Abd Rabbu Mansour Hadi.
Many Yemenis remain sceptical about whether Mr Saleh's family and associates are really prepared to relinquish their grip on power, and protesters continue to demand that that Mr Saleh be put on trial.
In the southern city of Taiz, two protesters were injured by police gunfire on Tuesday as they tried to storm a hotel where UN Security Council and European diplomats were meeting to discuss the situation there, the Associated Press quoted a security official as saying.
The protesters reportedly wanted the officials to inspect places they said had been bombed by government forces, visit hospitals to talk to wounded people, and meet victims' families.