Syria crisis: Iraq's Falah Fayadh 'positive' on talks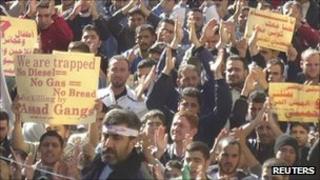 An Iraqi delegation led by National Security adviser Falah al-Fayadh says it has held "positive" talks in Syria aimed at ending the violence there.
Mr Fayadh was trying to broker a deal based on Arab League proposals, and said he would update the group at a meeting in Cairo on Wednesday.
Meanwhile, Syria's main opposition group held a conference in Tunisia.
The Syrian National Council is trying to present itself as a government-in-waiting set to replace Bashar al-Assad.
Pressure is mounting on the Syrian president to end the violence that the UN says has taken more than 5,000 lives since March.
Widespread anti-government protests encouraged by the Arab Spring triggered a harsh crackdown that has brought regional and international condemnation.
But after months of bloodshed and no sign of the regime falling, some Syrians have taken up arms in a bid to remove President Assad.
Security forces killed at least 24 people on Saturday, the Syrian Observatory for Human Rights said, most of them in the central province of Homs, a centre of anti-government protests.
The Local Co-ordination Committees, a group which organises and documents anti-government protests, said 40 people were killed, including eight former soldiers killed in clashes with the Syrian army.
Talks after talks
It is unlikely the Iraqi delegation - which says it had also been in touch with the opponents of Mr Assad - would visit Damascus without at least the tacit approval of Syria's strategic neighbour Iran, says the BBC's Jim Muir in Baghdad.
The Iraqis also appeared to think they had US support for the attempt, adds our correspondent, with Prime Minister Nouri al-Maliki and Mr Fayadh having just returned from talks in Washington.
Iraq may appear an unlikely mediator, as its Shia-led government has largely sided with President Assad, adds our correspondent. Baghdad did not vote in favour of a raft of economic sanctions imposed recently by the Arab League.
Leaving Damascus, Mr Fayadh said: "I am on my way to Cairo for a meeting with the Arab League after holding positive talks with President Assad."
Qatar's Prime Minister Sheikh Hamad Bin Jassim Bin Jabr al-Thani, meanwhile, said the 22-member Arab bloc would give Syria until Wednesday's Cairo meeting to allow in observers or it would consider turning to the UN Security Council for action.
The league suspended Syria's membership last month, and then imposed sanctions as it tried to persuade Damascus to accept a peace plan that includes the deployment of hundreds of outside observers.
Some recent Syrian protests have criticised the Arab bloc for cancelling a Syria-focused meeting on Saturday and extending a deadline for Damascus to end the crackdown and agree to the observer mission.
Earlier this month Damascus said it would allow the mission to enter Syria on a number of conditions - including the lifting of sanctions.
Alliance vs Council?
Some 200 members of the Syrian National Council are meeting in the resort of Gammarth north of Tunis in a bid to further unify the Syrian opposition.
"We need to emerge from this congress with a higher level of organisation, clearer targets and more momentum," said SNC leader Burhan Ghalioun.
The congress opened on Friday evening and runs until Sunday.
The formation of the SNC was formally announced in Istanbul, Turkey, in September, but its leaders are mostly exiled intellectuals who have limited contact with those organising resistance inside Syria.
Earlier this month, the SNC said it had agreed to co-ordinate action with the Free Syrian Army (FSA), largely made up of renegade soldiers.
The council said the FSA had agreed to reduce attacks on government forces.
Analysts say the SNC may face a challenge from another opposition grouping, the National Alliance, which was formed in Istanbul on Thursday.
Foreign correspondents are largely banned from the country, making it difficult to confirm accounts of the unrest.
President Assad has denied ordering security forces to attack peaceful protesters, and says the violence is being orchestrated by armed gangs.