Tunisia to extradite Libya ex-PM if fair trial possible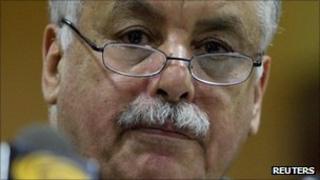 Tunisia's president has promised to hand over former Libyan Prime Minister al-Baghdadi al-Mahmoudi if he is guaranteed a fair trial.
Moncef Marzouki, on a visit to Tripoli, said it was Libya's "right to judge" its former prime minister.
Mr Mahmoudi was arrested in Tunisia in September for illegally entering the country.
Human rights groups have asked Tunisia not to extradite him, saying he could be subject to rights violations.
In a speech in Tripoli, Mr Marzouki said that Tunisia wanted to "make sure 1,000% that there is a fair trial, and that there's an independent judiciary" before returning Mr Mahmoudi to Libya.
"I am confident that this equation will happen," he told a gathering of non-governmental organisations, "meaning that you will guarantee for us a fair and impartial trial in Tripoli and we guarantee your rights to receive this person".
Battling extradition
Mr Mahmoudi, 70, served as prime minister from March 2006 until he fled after Col Muammar Gaddafi's forces lost control of Tripoli.
He is currently incarcerated in Mornaguia, near Tunis, where he is battling against extradition to Libya.
Libya's new government, the National Transitional Council, has pledged to treat all detainees fairly.
But Amnesty International and Human Rights Watch have both asked Tunisia not to extradite Mr Mahmoudi, saying he would be at grave risk of abuse.
His defence team have said that his extradition is not possible until the United Nations High Commissioner for Refugees rules on his application for political refugee status in Tunisia.
After Col Gaddafi's death, Mr Mahmoudi's lawyers expressed fears for his life, saying he now had sole knowledge of many Libyan state secrets.