Yemen soldiers die in Zinjibar clashes with Islamists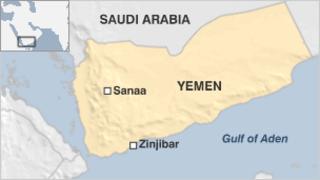 At least two Yemeni soldiers have died in clashes with militants in the south of the country, officials say.
The clashes took place in the suburbs of Zinjibar, capital of restive Abyan province and scene of frequent fighting between troops and Islamists since May.
At least five insurgents were also killed, according to reports.
Militants, allegedly linked to al-Qaeda, have exploited a security vacuum in the region after months of anti-government protests.
The army is fighting to regain lost territory.
Reports of the latest violence varied. One unconfirmed account said up to five soldiers and a child had been killed.
An official quoted by Reuters said the army had shelled fighters from a group calling itself Ansar al-Sharia. A colonel and another soldier were killed and three other soldiers wounded, the official said.
Stepping down
Opposition groups say Yemen's government has played up the al-Qaeda threat in an effort to boost international support.
President Ali Abdullah Saleh handed over presidential powers to his deputy last month and agreed to leave office in February.
The deal also granted Mr Saleh immunity from prosecution although many in Yemen say he should stand trial for the deaths of hundreds of anti-government protesters.
Meanwhile, the White House says it is still considering a visa request for President Saleh to visit the US for medical treatment.
Mr Saleh, who has ruled Yemen for more than 30 years, was badly injured in a rocket attack in June after which he spent several months recuperating in Saudi Arabia.
He has been under intense pressure to step down following months of mass street protests.
As well as the trouble in Abyan, Yemen also faces Shia rebels in the north, chronic unemployment and corruption and dwindling oil reserves.