Israel bars 12 "extremist" settlers from West Bank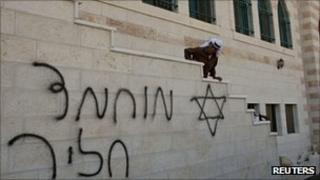 Israeli police have issued restraining orders to a dozen settlers barring them from entering the occupied West Bank.
The Israeli military described the group as "extremists" suspected of involvement in violence targeting Palestinians and Israeli forces.
The bans run for up to nine months.
Israeli authorities have announced plans to stop so-called "price tag" attacks carried out by Jewish extremists in response for any action taken against settlement expansion.
There has recently been a series in arson attacks on mosques and a reported rise in vandalism against private Palestinian property.
Israeli military bases in the West Bank have also been targeted. Israeli soldiers are based in the territory to protect Jewish settlers but are also responsible for carrying out demolition orders of illegal outposts.
According to Israeli public radio restraining orders were handed out in two right-wing settlements close to Nablus, Yizhar and Elon More, and three outposts.
The IDF statement said they were the result of "a specific security necessity", issued "after exhausting all other alternatives."
It said the Shin Bet internal security service had gathered information that "the group of extremists has been involved in leading, directing and executing violent and clandestine activity targeting Palestinian residents of Judea and Samaria [the West Bank] and security forces operating in the area, therefore endangering lives and disrupting public order".
"New steps"
Last month, after an incident at an Israeli army base, the Prime Minister, Benjamin Netanyahu, said a list of administrative measures was being taken.
Under the new regulations, the army will now have the authority to detain offenders, as well as the police, and they will be tried in military courts rather than in civilian courts.
In the past, Israeli police have made arrests of individuals suspected of being behind "price tag" violence but none has been charged.
The Palestinians have criticised what they see as a lack of serious action by Israel to stop the attacks on their communities.
There are more than a hundred Jewish settlements in the West Bank, territory that Israel captured in the 1967 war. They are considered illegal under international law, although Israel disputes this.
There are also dozens of outposts which were never authorised by the Israeli government.
Palestinian officials demand a halt to settlement construction in occupied territory which they describe as "an obstacle to peace".