Iraq violence: Schoolboys among eight people killed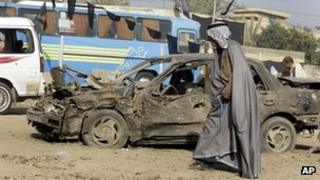 At least eight people have been killed in attacks across Iraq, officials say.
In the deadliest incident, a bomb exploded in the village of Yathrib, near Tikrit, killing three boys - aged nine and 10 - on their way to school.
Two agriculture ministry employees were also killed when a bomb attached to their vehicle exploded in al-Sharqat, in the province of Salahuddin.
In the evening, two soldiers died when gunmen attacked an army checkpoint in the northern city of Mosul.
An army colonel was earlier killed in Saadiya, in Diyala province, when a roadside bomb struck the convoy in which he was travelling.
One unconfirmed report said another roadside bomb in western Baghdad killed two Shia pilgrims, who were walking to the holy city of Karbala for Arbain, which marks the end of 40 days of mourning for Imam Hussein.
On Monday, two bombs targeting Shia pilgrims in Iraq left 15 dead.
The violence comes only weeks after US troops completed their withdrawal from Iraq and amid a political crisis, which has seen tensions rise between the country's Shia majority and Sunni minority.
Last month, the Shia-dominated government called for Sunni Vice-President Tariq al-Hashemi's arrest on terrorism charges.