Selected press on Iran scientist's death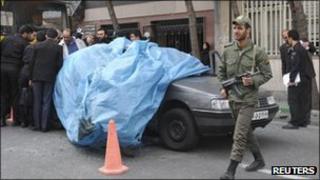 The killing of Iranian nuclear scientist Mostafa Ahmadi-Roshan in a car bomb attack in Tehran on 11 January has provoked an outcry in the country's press, with many commentators accusing the West of resorting to a campaign of intimidation to make Iran to give up its nuclear programme.
Ahmadi-Roshan's death is the latest in a string of attacks on scientists linked to Iran's nuclear programme.
Israeli papers also speculate about the motives for the killing, with some of them implicitly accepting their country is to blame.
Elsewhere, the Russian and Chinese press look at possible consequences of the killing amid US frustration with Iran's nuclear programme, pondering the prospect of a war between Iran and the West.
IRANIAN PRESS
Commentary by Behruz Beyhaqi in Khorasan
Assassinations of scientists indicate that other methods, like threats and sanctions, have been useless... The strategy of intimidating scientists and those involved in Iran's nuclear programme is likely to be intensified because it needs neither clarification via legal mechanisms, such as the Security Council resolutions, nor wide negotiations to achieve a relative consensus. Therefore, Iran's security systems and organisations should formulate serious policies to prevent more assassinations.
Editorial in Qods
Over the past years, enemies have been using various tools to create security and political challenges for Iran. Assassinations of political figures and nuclear scientists have been one of their tools ... To put Iran under psychological pressures and to throw the areas of security, politics, economy and even society into disorder, the enemies are making efforts to create an insecure and unstable atmosphere.
Commentary by Abdollah Ganji in Javan
Enemies are pursuing two objectives through blind assassinations: they are trying to prevent Iranian scientists from achieving their long-term goal of getting technologies which would help develop the country faster, and to create an atmosphere of disappointment within the society on the eve of the ninth parliamentary elections.
Commentary by Jalal Barzgar in Jaam-e Jam
The inhuman measures that have resulted in the martyrdom of the country's four scientists were carried out in a way that clearly indicates that the Western countries are targeting Iran's elite... This evil conspiracy will not be able to undermine the Iranian nation's will."
ISRAELI PRESS
Commentary by Amir Oren in Ha'aretz
Limiting the assassinations to nuclear scientists conveys a double message to Iran. First, whoever is sending the assassins will not be reconciled to a militarily nuclear Iran… Second, this is not a wide assault on the Iranian regime, just on its nuclear arm. Iran's leaders must decide now on a small scale and all the more so after an attack whether to respond to a precision strike by opening a wider war.
Commentary by Yaakov Katz in Jerusalem Post
It is difficult to imagine that a slew of assassinations will succeed in stopping the Iranians forever. That, however, might not be the goal. What could be in the minds of those ordering the assassinations is to delay the Iranian program for as long as possible, with the objective of providing a window of opportunity for diplomacy and/or sanctions to kick in and have a desired effect.
Commentary by Ronen Bergman in Yediot Aharonot
So who assassinated Mostafa Ahmadi-Roshan? Were they the messengers of new Mossad chief Tamir Pardo, as the Iranians claimed immediately?... The Mossad tried to hit scientists assisting the non-conventional efforts of Arab states already in 1960s, then the liquidations were directed against German scientists who worked for Nasir… The hope was that beyond the damage to the projects themselves, the assassinations would yield another result: lacking of desire on the part of scientists to continue to serve in positions entailing risks.
Commentary by Dab Margalit in Yisrael Hayom
Each time an Iranian nuclear scientist is killed… Israeli statesmen and spokesmen declare that they know nothing about the assassination in Tehran, but add with a wink that they shed no tear over the death of an Iranian at the service of Satan… Israeli officials should remain silent... Mature and confident Israel should be content with its open activity, its efforts to enlist international diplomacy to impose an economic boycott on the Ayatollahs and applying political pressure.
RUSSIA AND CHINA
Academic Aleksandr Voronkov quoted in Russia's Kommersant
Experts believe Tehran to be unlikely to carry out an 'act of revenge'. The Iranians do not have the capacity to carry out a similar operation on Israeli territory. Of course, they can organise the shelling of Israel by Lebanese group Hezbollah, but the Iranian authorities would hardly resort to this now.
Russian Security Council Secretary Nikolay Patrushev interviewed in Russia's Kommersant
For many years, we have heard talk about the Iranians creating a nuclear bomb as early as next week. The presence of a military component in Tehran's nuclear programme has not been proven so far, however this did not stop US Defence Secretary Leon Panetta from saying that a strike would be made at Iran anyway.
Academic Vladimir Sazhin quotes in Russia's Vedomosti
The allies, including the UK, would back the US actions and if a military operation against the Iranian nuclear facilities starts together with the strikes at the Iranian navy, Israel may also provide support.
Zhong Sheng in China's Renmin Ribao
US elections candidates can often be heard speaking about military action against Iran... Waging a war of words is one thing, policy implementation after taking office is another matter. However, the poison of this bluff can be seen clearly. A tense atmosphere is not only constraining rational and constructive action, but is making international relations full of variables and may even lead to a self-fulfilling type of catastrophic war.
Academic Tian Wenlin in China's People's Daily
The root cause of the feud between the US and Iran is the shift in the Middle East power balance... It is not hard to understand why the US has been using all possible measures except for launching a direct war to contain Iran in all areas. But up to now, all these measures have not made Iran really give in and it seems that the US currently has no better option except for launching a direct war. In this sense, the future US-Iran relations may enter a dangerous period.The assassination of Iranian nuclear scientist Mostafa Ahmadi-Roshan in a car bomb attack in Tehran on 11 January has provoked an outcry in the country's press, with many commentators accusing the West of resorting to a campaign of intimidation to make Iran to give up its nuclear programme.
BBC Monitoring selects and translates news from radio, television, press, news agencies and the internet from 150 countries in more than 70 languages. It is based in Caversham, UK, and has several bureaux abroad.