Egyptian hopes for post-revolution jobs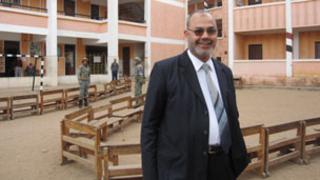 Forget the young pro-democracy activists who confronted the security forces in Cairo's Tahrir Square a year ago and toppled Egypt's autocratic president, Hosni Mubarak.
According to people in the cotton mill town of Mahalla el-Kubra, two hours' drive north of Cairo in the Nile Delta region, it is here, not in the capital, that the revolution really began.
In April 2008, tens of thousands of people took to the streets in a demonstration that began as a protest against low pay and ended with calls for the resignation of President Mubarak.
"We broke the barrier of fear," says veteran labour leader Hamdi Hussein.
And so the April 6 movement was born - images of the protests flooded the internet, providing both inspiration and encouragement for the protests in Cairo in January of last year.
But last year's revolution was not the revolution that activists like Mr Hussein had been dreaming of.
The winners, at least for now, were not the socialist and communist activists of Egypt's labour movement, but the Islamists of the Muslim Brotherhood and the ultra-conservative Salafi al-Nour party, who espouse an even stricter form of Islam.
I met Hamdi Hussein in a bare, concrete-floored room in a workers' rights centre on a muddy, rubbish-strewn Mahalla back street. On one wall was a poster of Che Guevara, and on another a poster depicting a worker's fist holding up a spanner in a victory salute.
"The old regime encouraged the Islamists in the mosques as a way of weakening the labour movement," he told me.
"But at least now, with more freedom to organise, the workers can elect independent leaders who will fight for better pay and more workers' rights. The struggle is not over."
I was in Mahalla on the last day of voting in Egypt's six-week election process to choose members of the country's first post-Mubarak parliament.
There was a steady trickle of voters at the polling station I visited, but nothing like the long lines that built up when voting started.
And there was no need for the rows of benches that had been placed outside for voters to sit on as they waited to cast their ballots.
'We want our dignity'
One man who already knows that he has won a place in the new parliament is Saad al-Husseiny, a local civil engineer who is a member of the Freedom and Justice party, which represents the Muslim Brotherhood and which will form the largest group in parliament.
"We will have a huge job to do," he told me. "People expect a lot from us, but they know they will have to be patient. It will take time."
It is certainly true that voters have high expectations. Interviewed at random outside the polling station, they spoke of the need for jobs, and for security on the streets.
One man told me that what mattered most to him was that Egypt should once again be respected overseas. "We want our dignity back," he said.
A woman wept as she pleaded with her new MP to provide jobs for her four sons.
"I want them to have safe jobs, government jobs," she said. "So many young people have nothing, and they fall into crime, or start taking drugs. I am so scared for my sons."
Abd el-Hay Ghida has jobs to offer, but he says they are not the kind of jobs people want. He runs a small garment-making business, making underwear for the local market and shirts and blouses for export.
But he has at least a dozen sewing machines standing idle, because, he says, young people prefer to wait for a government job rather than taking on what they regard as menial work in a factory.
What matters most to him is that Egypt's new rulers should be able to improve the country's economic prospects.
The global slowdown, combined with sharp increases in the price of raw cotton, has made it tough to survive, and many of Mahalla's smaller textile factories have already had to close down.
MP Saad al-Husseiny says there is one immediate priority when it comes to economic reform: "We will fight corruption, and the money that is saved will be used to help provide new jobs and help for the poor."
It may not turn out to be quite as simple as that - but for now, it is at least something for Egypt's new rulers to be aiming for.
Robin Lustig is reporting from Egypt for The World Tonight on BBC Radio 4 and Newshour on BBC World Service.