Suzanne Tamim murder: Egypt tycoon faces second retrial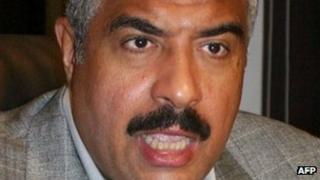 An Egyptian tycoon is to face a second retrial for ordering the murder of popular Lebanese singer Suzanne Tamim.
Hisham Talaat Moustafa, who was a senior member of Egypt's former ruling party, was sentenced to death after his initial trial in 2009.
In 2010 judges quashed his conviction and ordered a retrial, in which he was given a 15-year jail sentence. The reason for the new trial is unclear.
Tamim was found with her throat slit in a Dubai hotel in July 2008.
The new trial for Moustafa and another defendant, Mohsen al-Sukkari, will begin on 6 February.
Sukkari was jailed for life for killing Tamim in the 2010 trial.
In that trial, the court heard how Moustafa, an MP for the then ruling National Democratic Party, ordered the killing after Tamim had spurned his marriage proposal.
He is believed to have paid Sukkari $2m (£1.3m) to kill Tamim at one of the hotels owned by his property firm in Dubai.
Moustafa is believed to have started an affair with Tamim after she asked him for help in divorcing her husband.
But according to court papers, she moved to London before her death and was living with a kick-boxer.
She became a celebrity as the winner of an Arabic TV talent show in the late 1990s.
The murder case gripped the Arab public at the time as Moustafa was seen as typical of an elite who often used wealth and political connections to escape the law.
The different sentences handed down to Moustafa and Sukkari reinforced this impression amongst some observers.