Mixed emotions on Tahrir Square for Egypt anniversary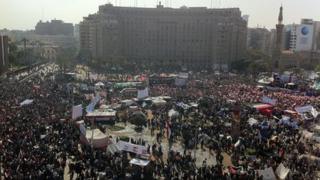 One year after Egyptians first came together in Tahrir Square in a show of force that toppled President Hosni Mubarak, they returned in crushing numbers.
The sun was shining and flags were flying but for many this was still a protest not a party.
"I'm here for the first anniversary of the revolution. Let's not say to 'celebrate' it," said Nada Ramadan, who struggled in from Cairo's Hussein district with her two children.
"I realise many rights have not yet been given to people. This is not over."
Everyone I asked hoped to put pressure on the military - which took over after Mr Mubarak stepped down on 11 February - to hand over to a civilian government.
After Egypt's first free and fair parliamentary vote in decades, the new People's Assembly sat for the first time this week.
"The elections are our only achievement in a year. Now the military should hand over to the parliamentary speaker," said Hussein from Imbaba. "This used to be in our constitution."
Another common demand was for justice and compensation for the hundreds killed and thousands injured in the 25 January revolution and unrest that followed.
Faces of the "martyrs" were shown on a large television screen. Nearby there was a poster of the former president and his hated interior minister, Habib al-Adly, with their heads in executioner's nooses.
Both men remain on trial and deny ordering police to open fire on unarmed protesters in the initial stages of the uprising.
Democratic divisions?
Last year's revolutionary cry signalling unity, "the people are in one hand", remained popular in Tahrir Square through the day.
But looking out over the crowds from a tall apartment building it was clear how divided it had become.
There were at least half a dozen stages around the edge of the roundabout, erected by Islamists, liberals and leftists.
Fittingly enough, the Muslim Brotherhood - which secured nearly half of parliamentary seats through its Freedom and Justice Party (FJP) - had the loudest speakers.
This angered some liberal activists who organised and supported the first 25 January demonstrations to call for political reforms and feel their voices are no longer heard.
"I came on 25th last year, I've been here throughout the difficult times in the past year, and I'm here again because things haven't improved. In fact they got worse," declared Shaimaa Zain, dressed in tight jeans and sunglasses.
"There is a conspiracy between the extremists and the military council."
Just along the street another woman, wearing the full-face veil, Amina Hamaya, dismissed such claims but showed understanding.
"These differences you see in the square, these are democracy," said Amina, who voted for the FJP. "Finally we have a democratic system and this will be our new way of life."
Military fireworks
While the military's decision to declare 25 January a public holiday to remember the revolution was welcomed, its plans for official anniversary events were widely scorned.
It organised parades, air shows and fireworks and said army helicopters would drop prize certificates in different provinces of Egypt.
On the Mediterranean coast, in Alexandria, big crowds reportedly packed the main square to block a planned naval procession.
In the canal city of Suez, thousands of protesters chanted: "From Suez to Tahrir, down with the Field Marshal," referring to the head of the ruling military council.
An early morning attempt by a military band to entertain the main Cairo gathering was quickly drowned out by calls of "down with military rule".
If the ruling generals hoped to appease demonstrators with their latest concessions - promising to lift the decades-old restrictive emergency law except in cases of "thuggery," and releasing 1,959 political prisoners - so far the strategy has not been effective.
Human rights groups said the wording of the statement on lifting the state of emergency was "an invitation to continued abuse".
Hours after his release from military prison, Christian blogger Maikel Nabil again strongly criticised the armed forces' running of the country in a You Tube video statement.
As soon as he had recovered from his ordeal, he promised he would "get back to the frontlines of the revolution" in Tahrir Square.