The economics of Egypt's revolution, one year on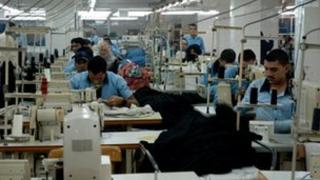 It is 08:00 and dozens of battered buses, pick-up trucks and tuk-tuks are clattering along a narrow dirt road.
They are all heading towards Giza Spinning & Weaving Company to drop off the 5,000 workers at a factory on the outskirts of Cairo.
The buses toot their horns as they drive into the factory courtyard. The workers then dodge the other buses pulling in and make their way on to the factory floor.
Five minutes later, the courtyard is silent. Workers are taking up their places at their sewing machines or work tables.
Then the cutting, stitching and labelling of material begins. The workers' handiwork will then be shipped on to retailers across the world.
For a country whose economy has been brought to a near standstill since its revolution a year ago, the din on the factory floor is a welcome noise.
What better evidence that people here are back to work?
Runaway inflation
It has not been an easy year for the business. Emboldened by the revolution, workers across Egypt have gone on strike for political and economic demands, and people at this factory are no different.
Giza Spinning & Weaving has seen several strikes in the past year.
As a result, the company has raised salaries by an average of 30%. But production manager Adel al-Gafary says that is still not enough for workers here. Inflation in Egypt is soaring and raising salaries is not enough.
"We do what we can to make the situation better for the workers but within limits of what's going on in the country," says Mr Gafary.
"The economic climate in the country is restrictive - workers are complaining, there's constant inflation and it's true - even though the owner's increasing salaries, it's all sucked up in price increases."
To make matters worse, while salaries have risen at the factory, business has fallen by about 40%. But raising salaries is a cost that the company's chairman Mohamed Marzouk is willing to bear, if only to keep the factory running.
"It's not a matter of profit right now, it's about how to get through the problem," says Mr Marzouk. "We are looking for stabilisation and to capture back our markets which we lost."
According to Mr Marzouk, his customers from the US and Europe have looked to other suppliers, amid concern that he would fail to deliver on his contracts or shipments because of the unrest.
"The major problem is trust," he says. "Once we get that back, things will get better."
Idle hands
But in order for things to really improve, Egypt's economy needs to strengthen too.
In the past year, revenue from tourism - one of Egypt's big foreign earners - has fallen by about a third. And about one in four people under the age of 25 is still jobless - a worrying statistic, given that unemployment was one of the major causes of the revolution.
Egypt's economic crisis is clearly worrying those at the top too.
Initially the government said it would do without any international assistance in the way of loans, but in the past few weeks, Egypt has reopened talks with the International Monetary Fund for an estimated $3.2bn to help plug a growing budget deficit.
While the country faces funding problems, the problem is even more acute for Egypt's small businesses.
In the affluent Cairo suburb of Maadi, small cafes and restaurants line the streets. Maybe Two, which sells frozen yoghurts, is one of the newest additions to the neighbourhood.
Founded by 28-year-old Mohamed Ashour and three of his friends, they launched their business just a few weeks before the revolution. When protests started, everything changed.
"We thought it was going to be OK, then two days later we had to literally shut down the store because the country was in a mess and people were stealing," Mohamed says.
"It really did affect our cash flow as a start-up business, we never expected that to happen so we had to really reconsider what we should be doing."
Scarce capital
But Hoda Selim from the Economic Research Forum in Cairo says businesses like Mr Ashour's are crucial for Egypt.
"Most of these businesses lack access to finance, they face huge costs in terms of starting up their own businesses, dealing with red tape," she says.
"This sector has huge potential and can actually contribute much more to the economy."
Mr Ashour and his partners are still hopeful. They have three branches across Cairo now and they are planning further expansion.
A lack of funds from investors slowed things down and Mr Ashour says he was lucky because their friends clubbed together with funds to help grow the business in the absence of institutional investors.
This year has been a learning curve for them all but Mr Ashour is sure about one thing.
"I'm a believer in the revolution, I just don't believe that this is the right way to approach it," he says.
"Going on strikes and leaving your job and ruining the economy wouldn't get you any closer to where you want."