Iraqiyya ministers end cabinet boycott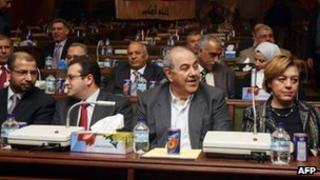 Ministers from Iraq's Sunni-backed Iraqiyya bloc have ended their boycott of the cabinet, reducing fears that the national unity government might fall.
A spokeswoman said it was a "goodwill gesture" to ease sectarian tensions.
The boycott began in December when Shia Prime Minister Nouri Maliki sought the arrest of Iraq's top Sunni Arab leader, Vice-President Tariq al-Hashemi.
Iraqiyya leaders accused Mr Maliki of trying to marginalise the Sunni Arab minority and cement his grip on power.
Mr Hashemi, who denies financing a death squad to target police, judges and officials during the insurgency, is currently in Iraqi Kurdistan, under the protection of the regional government.
Violence
Iraqiyya's boycott of parliament sessions and cabinet meetings brought the government to a standstill and plunged the country into a political crisis just days after the US completed its military withdrawal.
It coincided with a surge in violence, which left more than 200 people dead in January alone and raised fears of a civil war.
Last week, most of Iraqiyya's 76 MPs returned to parliament, attending a debate on the country's $100bn budget.
On Tuesday, a spokeswoman for the bloc, Maysoun al-Damlouji, said its eight ministers had attended a cabinet meeting, describing the end of the boycott as Iraqiyya's "second goodwill gesture" in efforts to end the crisis.
"We felt we must return to the parliament as the problems should be solved there, and to the cabinet," Iraqiyya MP Arshad Salihi told the Reuters news agency. "There are many important issues to discuss, and it is not possible to do that in the absence of some sides."
The cabinet boycott lasted another week because three ministers had wanted to press for the return of Deputy Prime Minister Saleh al-Mutlak.
Mr Maliki wanted to dismiss Mr Mutlak because he had complained publicly of the concentration of power in the prime minister's hands and likened him to a dictator.
Mr Maliki controls the vacant defence and interior ministries, making himself almost entirely in charge of Iraq's security forces, which have been conducting a campaign to detain people - many of them Sunni - suspected of sympathies or affiliations with the now-banned Baath Party.