Egypt press says court should be tough on Hosni Mubarak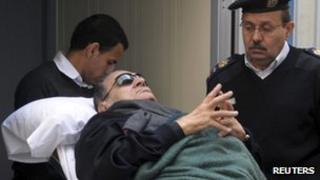 The last day of the trial against Hosni Mubarak is front-page news for the press in Egypt. The final verdict on the former president, who is accused of causing the deaths of hundreds of protesters in last year's uprising, will be announced on 2 June.
Commentators said the court should not be lenient, and some accused Mubarak of trying to influence the case against him by putting on an "Oscar-winning performance".
State-owned al-Ahram
Mubarak's fate will be decided on 2 June. Former interior minister Habib al-Adly claims Egypt was exposed to a conspiracy with the involvement of Hamas and Hezbollah.
Privately-owned al-Dustur
Expectations are that Habib al-Adly and his deputy Ahmad Ramzi will be executed.
Headline in opposition daily al-Wafd
"Mubarak on his way to the gallows"
Ahmad al-Sawi in privately-owned al-Shuruq al-Jadid
The expected Mubarak trial verdict will be shocking, as it will deal with just three basic accusations and not 30 years of rule... Remember that your elected parliament, which is busy with side and trivial issues, could have taken satisfactory measures regarding Mubarak. However, the parliament did not take any steps out of ignorance, weakness or complicity.
Muhammad Amin in privately-owned al-Misri al-Yawm
It will be a disaster, no matter whether Mubarak is acquitted or executed... If he is acquitted, the revolutionaries in Tahrir Square will boil with anger. If he is executed, his advocates and aides will go crazy... Mubarak is a sly fox who is moving chess pieces in cold blood. He should have been killed by a firing squad months ago.
Report in privately-owned Al-Misri al-Yawm
Mubarak implores people with verse by saying: "My country, even if it wronged me, is dear to me, and my compatriots, even if not generous to me, are noble."
Privately-owned al-Tahrir
Mubarak sends message to court in which he says he is "grieved by unfair accusations". He says: "I am not the person who will shed the blood of his people."
Headline in privately-owned al-Yawm al-Sabi
Mubarak is trying to escape the gallows by citing a verse, and al-Adly accuses Hamas of killing protesters.
Mahmud Nafi in state-owned al-Jumhuriyah
We have discovered that the ousted president is articulate and a poet.
Cartoon in state-owned Rose-al-Yusuf
Mubarak is pictured on his bed as he wins "Oscar for best artist for his performance during the trial"
BBC Monitoring selects and translates news from radio, television, press, news agencies and the internet from 150 countries in more than 70 languages. It is based in Caversham, UK, and has several bureaux abroad.