Egypt MP resigns 'after lying about plastic surgery'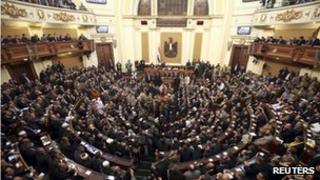 A newly elected MP in the Egyptian parliament has resigned after apparently lying over whether he had plastic surgery, his party says.
Anwar al-Bilkimy, a member of the conservative Islamist al-Nour party, had said his bandaged face was the result of a car-jack attack.
But a doctor now says he performed plastic surgery on the MP, who had urged him to keep it a secret.
Mr Bilkimy's party follows a line of Islam that forbids cosmetic surgery.
Anwar al-Bilkimy originally explained that the bandages covering his forehead, nose and cheeks were the result of being robbed as he drove on the Cairo to Alexandria road.
He said masked gunmen beat him when he refused to step out of his car.
Car-jackings have become more common since the overthrow of President Hosni Mubarak last year.
Local television channels interviewed the MP in hospital and he was visited by members of his party.
But his version of events was contradicted by the doctor and other medical staff, who said publicly they had performed a rhinoplasty on him.
The Salafist al-Nour party believes it is wrong to interfere with "God's creation".
As a result it says it has now expelled the MP from the party.