Nine killed in robbery at Baghdad gold market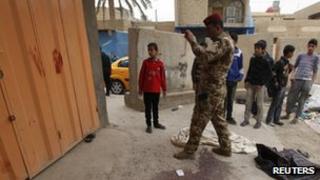 Armed robbers have attacked a gold market in Iraq, killing nine people and wounding at least 14 others.
Police say two carloads of gunmen attacked jewellery shops in the Ur district, a mainly Shia area in north eastern Baghdad.
They stole gold and cash and managed to escape after an exchange of fire with security forces.
Two policemen and two soldiers were among the dead, along with two goldsmiths. One man has been arrested.
Witnesses describe hearing a number of explosions, and it is thought the robbers used grenades during the attack.
A policeman told the Reuters news agency that some bystanders were deliberately targeted by the gunmen.
US officials warned last September that they had intelligence suggesting al-Qaeda was increasingly using armed robbery as a means of financing its operations in Iraq.
Security forces in Iraq have been placed on high alert ahead of an Arab League summit meeting that's due to take place in Baghdad at the end of the month.
There have been a number of other violent incidents in the country on Monday, with five policemen being killed in two separate attacks in the town of Tarmiya, to the north of the capital.