Assad father-in-law compares Homs to London riots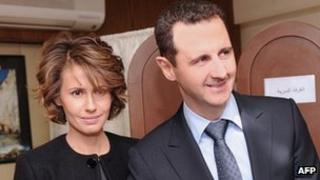 The father-in-law of the Syrian president has compared the Syrian army's crackdown in Homs, to the UK police's reponse to the London riots.
Speaking to the UK's Telegraph newspaper, Fawaz Akhras, who lives in London,said the government had a responsibility to ensure security.
His comments follow the publication of thousands of emails allegedly sent by Mr al-Assad, his wife and others.
In them Mr Akhras offers guidance on handling coverage of alleged torture.
The Guardian newspaper has publisheddetails of more than 3,000 documentsthat Syrian opposition activists claim are emails downloaded from private accounts belonging to Syria's first couple, although it admits it has not been possible to verify every one.
'Prudent'
They are said to have been intercepted by members of the Supreme Council of the Revolution between last June and early February, according to the Guardian.
In one of the documents, dating from 19 December 2011, an email purporting to be from Mr Akhras to both Mr and Mrs Assad warns them that UK television network Channel Four was about to show footage of atrocities.
Mr Akhras attaches a link to a Daily Mail article on the report, writing: "The description of this video is horrible and the embassy were asked to comment but no answer".
He suggests it would be "prudent" for the embassy to "respond and provide an explanation or comments e.g even by just saying the government will take the footage and pictures for professional examination and those accountable will be prosecuted".
He also suggests that Mr Assad should consider setting up a state-sponsored English-language television news network.
Contacted by The Telegraph, Mr Akhras spoke of the situation in Homs, saying: "When the London riots burst out and [British Prime Minister David] Cameron said he would get the army out, now would you compare that to Homs?"
"What would you do? Just watch them killing you? You have a responsibility to ensure the security of your people."
He admitted that the British authorities were able to deal with the riots without bloodshed, saying: "We are not as sophisticated as the Metropolitan Police or Scotland Yard."
Dr Akhras, a Harley Street cardiologist, has been a key liaison figure between the Syrian and British governments.
He is also the founder and co-chairman of the British-Syrian Society, created in 2003 with the intention of strengthening ties between the two countries.