Militants attack Yemen checkpoint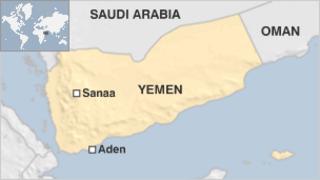 Twelve people have been killed in an al-Qaeda attack on a checkpoint in the southern Yemeni city of Aden, police say.
Four members of the security forces and eight militants were killed, officials say.
The attack happened at a checkpoint on the outskirts of the port city.
Islamist-linked militants seized swathes of territory in southern Yemen during last year's political upheaval in the country.
Hundreds of people have been killed in the past week in clashes between militants and security forces in the areas around Aden.
President Ali Abdullah Saleh - who ruled Yemen for 33 years - agreed to hand over power to his deputy, Abdrabbuh Mansour Hadi, in November, after months of protests.