Trial of fugitive Iraqi Vice-President Hashemi delayed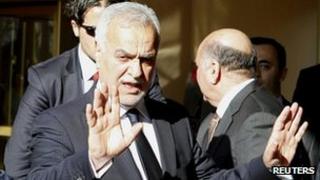 The trial in absentia of the Iraqi Vice-President, Tariq al-Hashemi, on charges of running death squads has been postponed until next week.
His lawyers asked for the delay, and want parliament to set up a special court to hear the case.
Mr Hashemi is accused of running a Sunni death squad that targeted Shia officials in post-invasion Iraq.
Mr Hashemi, the most senior Sunni Arab political figure in majority Shia Iraq, denies all the charges.
He fled to Kurdish-run northern Iraq when the allegations surfaced in 2011.
Mr Hashemi is accused of involvement in the killings of a top official in the national security ministry; another official in the interior ministry and a lawyer, a judicial spokesman said.
Prosecutors say Mr Hashemi and his bodyguards ran a death squad that carried out a campaign of political assassinations and bombings during the height of Iraq's insurgency.
On Monday, Mr Hashemi was also charged with the murder of six judges in a separate case.
In total, the authorities say he is linked to a total of 150 killings.
The court spokesman told the AFP news agency that further charges against Mr Hashemi were possible, but refused to say how many charges he faced.
Mr Hashemi says the charges are politically motivated.
He alleges that three of his bodyguards died while investigators tortured them in an attempt to extract false confessions.
Sectarian rift
Correspondents say the trial risks widening Iraq's Shia-Sunni sectarian divide.
The tensions between the two communities erupted into a spiral of violence in the years after the US-led invasion of 2003. Thousands died at the height of the conflict in 2006 and 2007.
Iraq is currently run by an uneasy unity coalition of Shia, Sunni and Kurdish groups, but critics accuse the Shia Prime Minister, Nouri Maliki, of seeking to monopolise power.
In an interview with the BBC in April, Mr Hashemi accused Mr Maliki of wanting to "regenerate the sectarian strife" that afflicted Iraq five years ago.
In December 2011, Mr Hashemi fled Baghdad when the judicial authorities issued an arrest warrant against him over the death squad allegations.
He sought refuge in autonomous Iraqi Kurdistan, which refused to hand him over to the authorities in Baghdad.
Last month, Mr Hashemi angered the Iraqi government by leaving for a regional tour to Qatar, Saudi Arabia and Turkey. He is currently still in Turkey.