Bahrain court adjourns retrial of activists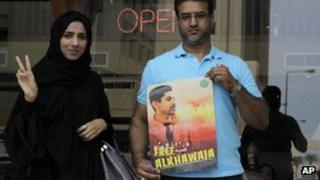 A court in Bahrain has adjourned for two weeks the retrial of 21 activists and opposition figures accused of plotting to overthrow the state.
The court said two of the defendants, Abdulhadi al-Khawaja and Abdullah al-Mahroos, had to be present in court. Seven are being tried in absentia.
Mr Khawaja has been on hunger strike for 91 days in protest at jail terms imposed by a military court in June.
Last week, the activist's wife dismissed the retrial as "ridiculous".
Khadija al-Moussawi said the Bahraini authorities were simply "playing for time" in the face of international pressure to release him.
Mr Khawaja meanwhile told the BBC in hospital that he intended to continue his hunger strike despite widespread fears that he might die.
He accused medics of force-feeding him, something officials denied.
'Forced confessions'
During Tuesday's hearing, the civilian court allowed defence lawyers to meet their clients and demanded that Mr Khawaja and Mr Mahroos receive suitable medical assistance when the retrial resumes on 22 May.
The lawyers complained that their clients had faced abuse in custody and been forced to sign confessions that they had used or advocated violence against King Hamad during last year's pro-democracy protests.
The defendants were convicted by the National Safety Court, a military tribunal. Seven of them, including Mr Khawaja, were sentenced to life in jail. Mr Mahroos, a prominent Shia religious figure and critic of the Gulf kingdom's Sunni-dominated government, was sentenced to 15 years.
Last month, Bahrain's highest court, the Court of Cassation, threw out their convictions and ordered a retrial, although they were not released.
A similar retrial is under way for 20 medics who were convicted by the National Safety Court of crimes against the state and sentenced to between five and 15 years in prison. The next hearing is on Thursday.
At least 60 people are said to have been killed since protests erupted last year demanding more democracy and an end to discrimination against the majority Shia Muslim community by the Sunni royal family.
King Hamad has tried to address some of the protesters' demands by announcing constitutional reforms intended to lead to greater accountability. But the opposition, as well as human rights groups, say the promises are empty and that the crackdown on dissent is continuing.