Turkey refuses to extradite Iraqi Vice-President Tariq al-Hashemi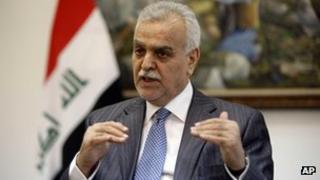 Turkey says it will not arrest and hand over Iraq's fugitive Vice-President Tariq al-Hashemi.
The decision comes a day after the international police organisation, Interpol, issued a worldwide alert for Mr Hashemi's arrest.
Mr Hashemi is accused of having run death squads to target Shia officials.
The Turkish deputy prime minister said Mr Hashemi was in Turkey for medical treatment, and the government would not extradite someone it had supported.
Mr Hashemi is said to have run a death squad with his bodyguards which is alleged to have carried out a campaign of political assassinations and bombings at the height of Iraq's insurgency.
Prosecutors allege he was involved in the killings of a top official in the national security ministry, another official in the interior ministry, a lawyer and six judges.
The authorities say Mr Hashemi is linked to a total of 150 killings.
Mr Hashemi denies all the charges, which he says are politically motivated.
He also says his life would be in danger if he returned to Iraq.
He is Iraq's most senior Sunni political figure, and an opponent of the prime minister, Nouri al-Maliki.
Interpol says it has issued a "red notice" for Mr Hashemi, following a request from the government in Baghdad.
The move effectively puts Mr Hashemi on Interpol's Most Wanted list.
However a red notice is not a formal international arrest warrant, and is non-binding.
Interpol's Secretary General Ronald K Noble said Mr Hashemi's ability to travel across international borders would now be "significantly restricted".