Huge economic challenge awaits Egypt's next leader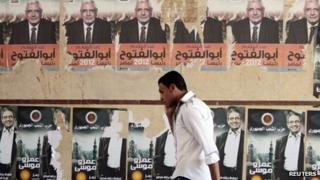 When Egyptians joined a popular revolt last year, many were demanding economic change.
They were suffering from high unemployment and prices, low wages, widespread poverty and crippling corruption.
Over the last 15 months little has changed and many have even seen their finances worsen.
On a bustling street in the Mohandisseen area of Cairo, people come from all walks of life.
It is easy to get them to talk about the change in their personal fortunes.
"I used to work as a store manager in a much better shop but after the revolution many shops closed down," says Muhammad Abdul Hamid. "For eight months, I stayed at home, but now I have a new job here."
"I'm a model and it's been very hard to find work," says a well-dressed woman, Dina. "After the revolution there [were] no job opportunities at all, particularly for freelancers."
A 21-year-old business graduate, Salma, says she has applied for more than 100 jobs and received only five responses. "Before the revolution it was very promising in banking and telecommunications but now the job market is squeezed," she complains.
Kiosk businesses
Unable to find formal work, many Egyptians from poorer neighbourhoods nearby have branched out into casual jobs.
They sell fruit, corn-on-the-cob and cool root beer from carts or kiosks on the pavement outside shops.
"I was working in a factory before but I lost my job and now I'm just selling cigarettes here," a young man called Mustafa Mohammed tells me.
All along the street there are posters for presidential candidates. The first round of voting takes place on 23 and 24 May with a run-off vote scheduled for June.
Whichever contender wins, he will be under extreme pressure to deal with Egypt's deep economic crisis. It is going to be a huge challenge.
Samir Radwan, Egypt's former finance minister, paints a bleak picture of what lies ahead for the country's new leader.
"Tourism which used to bring $1bn a month is down. Now it's picking up a little, but it's not back to its 2010 level of 13m tourists a year."
"There is the rising price of energy and Egypt is a net importer of energy so that puts a heavy burden on the budget. The result is that you have a budget deficit coming close to 10% of GDP," he adds.
Radwan said that domestic production has halted in parts of Egypt as hundreds of factories have closed down. Exports were also lower compared to pre-revolution levels.
Investment potential
At a glaze factory, in an industrial zone to the north-east of Cairo, not all the recent news has been bad.
Manager Walid Sobhy shows me the red-hot liquid streaming from five furnaces at the site, he explains that demand from the ceramics industry has remained stable.
He is relieved that it has been relatively unaffected by the recent strikes hitting other sectors. Yet foreign investment has been harmed by the political upheaval.
"A lot of investors stopped everything because the situation is unclear. They are waiting for this election before they invest in Egypt. Foreign direct investment needs political stability."
He believes that the future in Egypt should be better. "With a good president who is honest and has a good vision, I hope that Egypt will be in the top 10 countries in the world in 20 years."
"We have infrastructure and we have raw materials, we have a big labour force and space and we have the cheapest power. There are a lot of opportunities in Egypt."
It is an assessment that many experts agree on: Egypt has potential.
But before it can be fully harnessed the next leader will have to make serious reforms, particularly to the inefficient subsidy system, which takes up 30% of the national budget.
It will be a tricky task to ensure that the poor do not end up worse off.
Egypt's next leader will also carry with him the burden of high expectations.
Many Egyptians anticipated dramatic economic improvements after last year's uprising but they did not materialise. Now they are relying on the new president to deliver on the promises of the revolution.