Syrian army 'responsible for rights abuses' - UN report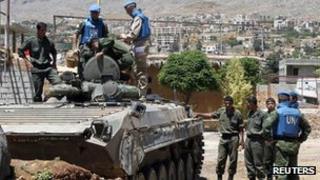 The Syrian army and security forces are responsible for most of the serious human rights abuses committed in the country since March this year, according to a UN-commissioned report.
The report also mentions opposition tactics, with evidence captured soldiers have been tortured and killed.
The UN investigators say the conflict is becoming increasingly militarised.
UN Secretary General Ban Ki-moon says at least 10,000 people have died in the uprising, which began in March 2011.
In its latest report, covering March, April and part of May, a commission on Syria appointed by the UN Human Rights Council documented cases of torture and summary execution committed by both the Syrian army and opposition forces.
"Most of the serious human rights violations documented by the Commission in this update were committed by the Syrian army and security services as part of military or search operations conducted in locations known for hosting defectors and/or armed persons, or perceived as supportive of anti-government armed groups," their report said.
"The army employed the wide range of military means, including heavy shelling of civilian areas," it added.
"State security forces continued to use lethal force against anti-government demonstrations in Idlib, Homs, Aleppo, Hama, Damascus and Deraa and in numerous villages throughout the country."
Despite April's ceasefire, and the deployment of UN monitors in Syria, the investigators of the Independent Commission of Inquiry on Syria say the conflict has become increasingly militarised.
"Whereas government forces had previously been responding primarily to demonstrations, they now face armed and well-organised fighters - bolstered by defectors who joined them," the report says.
'Families executed'
The report says there is a pattern of serious violations, in which Syrian security forces blockade villages, and carry out house-to-house searches looking for opposition force.
In some of these operations, the report says, entire families have been executed. The investigators also say torture in detention, including of children, continues.
But the report has criticism of opposition tactics too - revealing evidence that captured Syrian soldiers have been tortured and killed.
Opposition forces are also increasingly resorting to hostage-taking - in some cases to get their own prisoners released, in others, to extort money to buy weapons.
The Syrian government has refused the team entry to Syria, but the investigators carried out interviews in neighbouring countries with more than 200 eyewitnesses.
Meanwhile the opposition Syrian National Council (SNC) says it has accepted the resignation of its president, Burhan Ghalioun, who has led the movement since it was established last September.
Last week, Mr Ghalioun, whose leadership of the SNC has been criticised by other opposition activists, said he would step down if a replacement leader could be found.
But it is not clear who that new leader will be, says the BBC's Jonathan Head in Istanbul.
The SNC - which is based in Turkey - is more of a coalition than a unified movement, embracing a diverse range of opposition groups, and finding someone acceptable to all of them was difficult, our correspondent says.
Many of the armed insurgent groups operating loosely under the umbrella of the Free Syrian Army have refused to accept the authority of the exiled SNC leadership.
The SNC has also been criticised for its failure to win greater international support for the Syrian uprising. But one of the factors cited by sympathetic governments for not giving it more recognition is the lack of unity and its inability to control the forces fighting inside Syria, our correspondent adds.