Iraqi mortar attack near Shia shrine kills four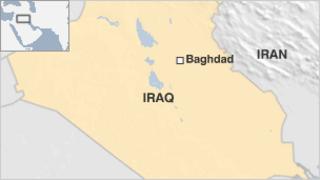 At least four people have been killed and 30 injured in a mortar attack in the Iraqi capital, Baghdad.
Police said two shells struck an area in the northwestern Kadhimiya district where pilgrims were gathering near a Shia religious shrine.
Police sources said the death toll could rise.
Violence in Iraq has fallen since the sectarian killings of a few years ago, but militants still frequently attack security forces and civilians.
The attack took place in Quraish Square in Kadhimiya district, where Shia pilgrims were congregated ahead of a religious festival to mark the anniversary of the death of Shia imam Moussa al-Kadhim.
A source in the interior ministry told Reuters that security forces are on high alert and that a vehicle ban would be in place in the district from Monday.