UN monitors in Syria 'fired on' near Haffa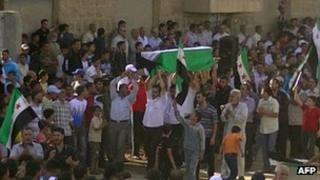 UN monitors say they were fired on and forced to turn back as they attempted to reach the town of Haffa in northern Syria, where rebel positions are being bombarded by government forces.
The monitors said stone-throwing crowds stopped them from reaching Haffa and three cars were fired on as they left.
The head of UN peacekeeping says Syria is now in a state of civil war.
Herve Ladsous told reporters at the UN in New York that large parts of Syria were now outside government control.
The monitors turned back at the last checkpoint before Haffa, judging the situation "unsafe", a UN spokeswoman said.
As the monitors were leaving the area, the spokeswoman said an angry crowd threw stones and metal bars at the UN team before unknown assailants opened fire.
None of the observers was hurt.
Mr Ladsous, UN Under-Secretary for Peacekeeping Operations, said the attack on the UN team near Haffa was deliberate.
Asked whether he believed Syria was now in a civil war, Mr Ladsous told a small group of reporters: "Yes, I think we can say that.
"Clearly what is happening is that the government of Syria lost some large chunks of territory, several cities to the opposition, and wants to retake control."
The UN has warned of an alarming escalation in violence in Haffa.
The fighting comes as the Syrian government stands accused of being behind two massacres in the past month.
Earlier, UN Secretary-General Ban Ki-moon had underlined the importance of "unimpeded access" to Haffa, amid reports of a build-up of government forces around the town.
'Twist arms'
Kofi Annan, the international mediator on Syria, is working on convening a new diplomatic conference on Syria soon, according to his spokesman, Ahmad Fawzi.
However, no date or list of participants has yet been decided.
Mr Annan has asked governments with influence in Syria to "twist arms" and get the two sides to implement his six-point plan to end the violence, Mr Fawzi said.
US Secretary of State Hillary Clinton accused Russia of supplying attack helicopters to the government of Syrian President Bashar al-Assad.
She told a conference in Washington the US was concerned as the helicopters would "escalate the conflict quite dramatically".
Russia has previously denied supplying arms to the Syrian government.
On Wednesday, Russian Foreign Minister Sergei Lavrov will visit Iran to discuss Moscow's call for a conference that would involve Tehran - a move strongly opposed by the US.
Meanwhile, British Foreign Secretary William Hague, who is visiting Pakistan, said foreign military intervention was not being considered for Syria and that all efforts were being made for a peaceful transition.
"I think we should not think about it in terms of another Libya," he said.
'Situation dire'
The diplomatic moves come against a backdrop of intense violence in Haffa, where troops have been besieging rebels for eight days.
Heavy tanks and helicopter gunships are being used, rebels said, with shells raining down.
One rebel commander from the Free Syrian Army told Reuters: "The situation is dire. Forget the weapons, people need medicine and food. As you know, we're in a state of war in Syria. The army could enter Haffa in minutes if it wanted but it is trying to crush it instead."
The rebels said they had brought civilians to the outskirts to try to evacuate them but those areas were also under fire.
US state department spokeswoman Victoria Nuland said there were fears the Syrian government "may be organising another massacre" in Haffa.
The BBC's Jim Muir in Beirut says Syrian state television has been playing recordings of what it says is an intercepted phone conversation between militants, with one of them ordering the rebels to carry out a massacre of civilians at Haffa, film it, and blame the government.
Earlier this month, activists said Syrian government forces killed 108 people in the region of Houla, in Homs province, and 78 people in the village of Qubair, in Hama province.
France said on Tuesday it also feared "new massacres" were being prepared in Syria.
In other reports of violence on Tuesday:
Activists said the army had shelled a night-time protest in the eastern city of Deir al-Zour, killing 11 people
In the central city of Homs, an activist told AFP the situation there was "horrific, murderous", with 400 civilians trapped in a school in the Jourat al-Shiah district
Syrian state television said two passenger buses were stopped outside Homs by "armed terrorists" and that an unspecified number of people were abducted
Activists said Hreitan in the northern Aleppo province was subjected to violent army shelling
There is often no means of providing independent verification of reports within Syria.
The Syrian government blames the violence on foreign-backed armed terrorist gangs.
Separately, a UN report has accused Syrian troops of torturing children and using them as human shields to prevent attacks by opposition forces.
In its report on children and armed conflict the UN said children were being tortured in detention and slaughtered in massacres.