UN says Syrian sides 'lack willingness' for peace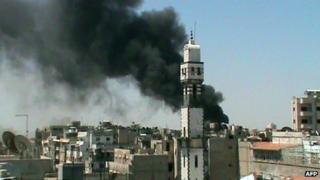 The head of the UN Supervision Mission in Syria (UNSMIS) says there appears to be a "lack of willingness" on the two sides to seek a peaceful transition.
Maj-Gen Robert Mood said violence had risen over the past 10 days, causing losses on both sides and putting his unarmed observers at significant risk.
The Norwegian said there was a "push towards advancing military positions".
Activists have said troops are shelling opposition-held areas and fighting rebels in several parts of the country.
Civilians have reportedly been killed in the eastern province of Deir al-Zour, the northern province of Aleppo and a Damascus suburb.
Opposition activists said about 30 people died in violence across Syria on Friday, including several protesters shelled as they left weekly prayers.
A gruesome video circulated by opposition groups purported to show corpses scattered outside a mosque in the southern town of Busra Sham.
Protesters said they had been warned by the army they would be shelled if they demonstrated. State news agency Sana said "terrorists" had set off two bombs outside the mosque.
Meanwhile, France is looking at whether to supply the Syrian rebels with telecommunications equipment, Foreign Minister Laurent Fabius said.
Observers 'limited'
At a news conference in Damascus on Friday, Gen Mood said that after the UN observer mission in Syria began on 29 April there had been a lull in violence, "brought about willingly" by the government and rebels.
But he warned: "Violence over the past 10 days has been intensifying, again willingly by both parties, with losses on both sides and significant risks to our observers."
"The Syrian population, civilians, are suffering and in some locations, civilians have been trapped by ongoing operations."
Gen Mood said UNSMIS had been established as the "factual voice on the ground to ensure that the pain and the suffering of the Syrian people is recognised and addressed".
"But the escalating violence is now limiting our ability to observe, verify and report, as well as assist in local dialogue and stability projects."
The general noted that both sides had accepted the six-point peace plan negotiated by the UN and Arab League envoy, Kofi Annan, which included a ceasefire.
"There appears to be a lack of willingness to seek a peaceful transition," he added. "Instead there appears to be a push towards advancing military positions".
Gen Mood warned that the UN mission was not open-ended and would be under review as it neared the expiry of its current mandate in July. But he hinted that it should be strengthened in numbers and equipment.
Hopes for putting some muscle into the Annan peace plan are currently pinned on a proposed international conference in Geneva at the end of the month, reports the BBC's Jim Muir in Beirut.
But Russia's government has said it will take part only if the focus is on ending the bloodshed, not discussing Syria's political future, our correspondent adds.
Russian Foreign Minister Sergei Lavrov is also insisting that Iran must take part, something which many Western countries do not want.
He also denied on Friday that Moscow had been discussing plans for a political transition in Syria that would include its president's departure.
"It's not true that we are discussing Syria's fate after Bashar al-Assad," he said. "We are not dealing with a regime change, either through approving unilateral actions at the UN Security Council nor through taking part in some political conspiracies."
Russia's foreign ministry separately insisted it was not selling new attack helicopters to the Syrian military, saying only refurbished aircraft were sent "many years ago" and trade was limited to "defensive weapons".
Earlier this week, US Secretary of State Hillary Clinton accused Russia of escalating the conflict by supplying attack helicopters. However, the state department later acknowledged that these were refurbished helicopters being returned to Syria.
Speaking on France's stance on supplies to the rebels, Mr Fabius told Inter radio on Friday: "We are considering - and the Americans have done this - not giving weapons but providing communications equipment so that a stronger revolt develops amongst the population."
The BBC's Christian Fraser in Paris says the new French government of Francois Hollande has put Syria at the top of its foreign-policy agenda.
In April, the US pledged $12m (£7.7m) in communications equipment for the Syrian rebels.
'Chemical weapons'
Earlier on Friday, opposition and human rights activists said government forces were continuing an offensive that began earlier this week to capture rebel-controlled areas in northern, central and coastal provinces.
The Local Co-ordination Committees, an activist network, and the Syrian Observatory for Human Rights said troops were bombarding the town of Anadan in Aleppo province. At least one person was reportedly killed.
Deadly clashes also took place in the city of Deir al-Zour, the nearby village of Akayrashi and in the eastern Damascus suburb of Douma, the LCC said.
On Thursday, at least 84 people, including 48 civilians, were killed in clashes and bombings, the Syrian Observatory for Human Rights said.
Activists have accused government forces of using chemical weapons in at least four different parts of the country.
The UN says at least 10,000 people have died since pro-democracy protests began in March 2011. In April, the Syrian government reported that 6,143 Syrian citizens had been killed by "terrorist groups".