Suicide car bombing in central Iraq kills six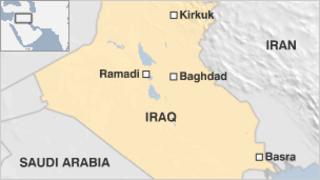 At least six people have been killed and 20 others wounded in a suicide car bombing in central Iraq, officials say.
The attack reportedly targeted a member of a so-called Awakening Council in Ramadi, but he was not at home at the time. Most of the victims were women.
Iraq's Awakening Councils, drawn from among the country's Sunni Muslims, have been seen as a key factor in reducing violence across the country since 2006.
The local militia were set up to combat Sunni insurgents linked to al-Qaeda.
A police officer in Ramadi said he had found a parked car on fire after arriving at the scene of Friday evening's "big explosion".
"Bodies were scattered everywhere and some houses were destroyed," he told the Reuters news agency.
Although violence has reduced since of the insurgency in 2006 and 2007, at least 237 people were killed during June, making it one of the bloodiest months since US troops withdrew in December.
Most of last month's attacks targeted the majority Shia community and were blamed on Sunni militants linked to al-Qaeda in Iraq.