Damascus bombing: Syrians react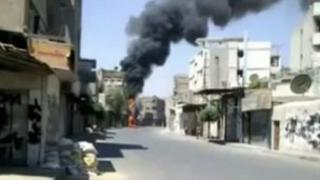 The killing of three Syrians in President Bashar al-Assad's defence team has brought the conflict deep within his inner circle.
The attack left his brother-in-law, the defence minister and the head of his crisis management team dead.
Here, people in Damascus tell the BBC what they make of the latest developments in Syria.
Ali, Damascus
I have seen these terrorists myself in the suburbs of Damascus and they threatened me telling me that they would burn my house down, but the centre of Damascus remains calm.
I have asked my aunt who lives in the Qaboun area of Damascus to come and live with us at our home as the violence is much worse where she is living.
My uncle has refused to come with her, saying he will fight for Syria with the army. He works as a civil engineer.
I think the president has about 70% of the people's support; a further 10% are against him but they are the terrorists who are linked to al-Qaeda and the Muslim Brotherhood, and the others - well they just don't care.
I think the president will remain in power.
Gaber, Damascus
Some places in Damascus look like a war zone, while others seem to be fine.
You can still see the fear on every face though.
What you hear and observe all the time in Damascus is the helicopters firing day and night almost non-stop. Even if you're not in the area of shelling, the sound is so loud that there is no escape.
Tanks shelled Qaboun, Barzeh and Midan last night.
The shelling continued this early morning. Many were killed in Qaboun, and dozens were injured. Most of the residents have deserted the district. Midan which is in the middle of Damascus was shelled with mortars and tanks.
People of Syria do not care much about politics and what politicians say after the international community gave Assad that much time to kill their families and friends. They do not care about the empty words when they see the massacres that have been committed during UN envoy Kofi Annan's mission.
Syrian people are pretty sure their victory is close, but they just do not know how many others will be killed before that triumph can be achieved.
Until then, they only trust the FSA for they have given their lives to protect them.
Mansour, Midan, Damascus
I am also a spokesman for the Syrian Revolution General Commission.
Snipers are still on the roof tops. I saw a child shot in front of my eyes this morning near Bab Mouslah circle.
Some members of the military forces have retreated but people in Midan are still very scared because we are hearing that the 4th Battalion - soldiers known for their brutality - are planning to come in.
Yesterday, the Free Syrian Army (FSA) destroyed many weapons owned by President Bashar al-Assad's forces and many interactions took place. We saw heavy smoke in the air covering all of Kafesoush and Nahe Aysha.
This morning there were many tanks at Abu Habel and we saw heavy smoke coming out from Al-Aziz mosque in Daf Alshouk.
We also heard many explosions. One of them was the explosion in the national security HQ. This was followed by the sound of many ambulances heading to the Shami hospital.
We also heard that a barricade of guards with responsibility for protecting al-Assad has been attacked near Barda valley.
Civilians still living in Damascus are in fear and we are witnessing a halt to all movement in the city.
Midan has an atmosphere of fear and the health situation is in a dire state of deterioration as rubbish has not been picked up for days.
Residents are now forming small groups to clean the town as well as create medical groups whose responsibility it is to rescue people who are shot by the snipers.
Assad's forces and the shabiha are now attacking Al Qaddam and Al Hajjar Al Aswad using swords and guns. They are now slaughtering people like they are lambs.
People in Damascus today felt a sense of hope after the operation that took place in the national security building, however we are afraid of possible air strikes and, of course, further death.